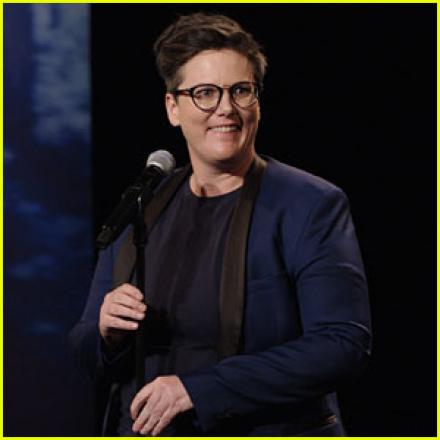 Tasmania-born performer Hannah Gadsby said that she would quit comedy after this show. As far as I know she hasn't changed her mind but events have meant that her stand-up retirement seems to be on ice at the moment. She is currently performing an extended run of Nanette in New York and already has a Los Angeles date in the diary too. That change of direction might have to wait a while. But if she does eventually quit she is certainly going out on a high. Nanette isn't just a comedy show, it's a landmark comedy show.
Some may suggest, however, that the bespectacled stand-up, who won the Barry Award at the Melbourne Comedy Festival and was joint winner of the Edinburgh Comedy Award (with John Robins), actually quits comedy during her set. The autobiographical monologue is initially delivered in chatty, anecdotal style before a gulp-inducing gear change, this deceptively tough cookie getting seriously angry about men controlling narratives and women being treated as victims. She speaks from painful personal experience.
Most of the pithy asides come in the first half of the gig. This version was filmed at the Sydney Opera House. "You gotta laugh…not of late," she chuckles, acutely aware that this is not your typical Live at the Apollo material. Instead she confronts shame, homophobia and misogyny, drawing on references from classical art to her own life, dropping breathtaking bombshells en route.
To say much more might lessen the impact of hearing those words yourself. Let's just say that this show goes to places no comedy shows before have gone. It's great to see it on the netflix roster alongside performers as varied as James Acaster and Ricky Gervais. If stand-up was purely about laughs Nanette might be one to sidestep. But Gadsby employs her formidable performance skills to visit very challenging, provocative places. It is not always easy viewing, particularly for men, but it should leave a mark on anyone who watches it
Watch on www.netflix.com now