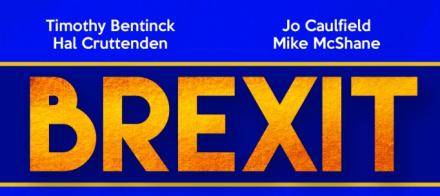 Mike McShane, Jo Caulfield, Hal Cruttenden and Pippa Evans are to star in a new comedy about Brexit at the Edinburgh Fringe. It's 2020 and The Gordian Knot of Brexit remains tightly tangled. To keep a united government and to achieve an exit deal remains incompatible ... or is it? Is Adam Masters the man of the moment? The political miracle worker of his generation? The Wizard of Westminster? The Gary Kasparov in this drawn-out game of political chess? Adam has won the Tory leadership contest. He was the only candidate all factions of his party could agree on. But the poison chalice is not for him and he has a foolproof plan; A cunning scheme to unite his MPs for the final stages of the Brexit negotiations. It's easy; a piece of cake; child's play. All he has to do is... just ...umm just ... now, what was it again? ...How's it supposed to go? What was that killer move? ....
Set in the whispering corridors of power, Brexit is a tale of comic political intrigue, of promises made and broken, of juggling the balls of power whilst taking the wheel of the big Brexit bus which is now careering out of control.
The Archers star Timothy Bentinck, as Adam Masters is joined by comedy luminaries Mike McShane, Jo Caulfield and Hal Cruttenden, as his advisors and warring colleagues. Brexit is written by Robert Khan and Tom Salinsky the team behind previous Edinburgh Fringe hits Impossible, Kingmaker, Coalition and Making News
Timothy Bentinck is best known for his long-running role as David Archer in the BBC Radio 4 series The Archers and Tom Lacey in the classic BBC TV drama series By The Sword Divided. He has a wealth of television experience including The Royal Bodyguard with David Jason, The Thick Of It, Twenty Twelve and Broken News. His stage roles include the Pirate King in the celebrated production of The Pirates of Penzance at The Theatre Royal Drury Lane, Captain Brice in Arcadia at the Theatre Royal Haymarket and Hubert Laurie in Night Must Fall also at the Haymarket. Bentinck's autobiography Being David Archer – and other unusual ways of earning A Living was published by Constable in 2017
Mike McShane was an original cast member of "Whose Line Is It Anyway?" (U.K.) he's appeared in Little Shop of Horrors, Tailor Made Man, Pocket Dream and Assassins (West End, U.K.); and La Cage aux Folles and Taller Than a Dwarf on Broadway. His film credits include Robin Hood: Prince of Thieves, Richie Rich, Tom & Huck, Office Space and Big Trouble. His television appearances include "Seinfeld," "ER," "Brotherly Love," "Frasier," "Malcolm in the Middle," "Wayward Pines,"and " Red Bird" on Amazon, as well as the British shows "Doctor Who," "A Summer Days' Dream," "The Big One," "S&M" and "Bluestone 42." He was recently Ovation nominated for his performance as Big Daddy in "Cat on a Hot Tin Roof",as well as an Emmy nomination for Best Actor for" Red Bird". McShane is a proud member of Impro Theatre and Antaeus Theatre Company in Los Angeles.
A comedian who has worked all over the world from Stockholm to New York to Mumbai. A regular at The Comedy Store, Jo Caulfield has also done several solo nationwide theatre tours of her popular Edinburgh Festival shows. Her TV appearances include Have I Got News For You, Mock The Week, LIve At The Comedy Store and Michael McIntyre's Comedy Roadshow. She is a regular on Radio 4 guesting on shows such as Just A Minute, The Now Show, The News Quiz , Quote Unquote and Four at The Stand. Jo has also had several of her own series on Radio 4 amongst them It's That Jo Caulfield Again and Jo Caulfield Won't Shut Up. She also works as a comedy writer. For many years she wrote for Graham Norton on So Graham Norton. This year Jo will be performing her new Stand Up show Killing Time at the Edinburgh Festival, The Stand 19.40.
Hal Cruttenden is one of the top stand-up comedians working in the UK today, as well as being a highly accomplished writer and actor. He has made several appearances on Live at the Apollo, Have I Got News For You and 'The Royal Variety Performance' (ITV) as well as his regular appearances on shows such as Mock the Week, The Great British Bake Off: An Extra Slice (BBC2 and Channel 4) The Apprentice: You're Fired. His other TV appearances include The John Bishop Show, Michael McIntyre's Comedy Roadshow, Celebrity Mastermind and The Rob Brydon Show. His radio work includes two series of his sitcom Hal (co-written with Dominic Holland) was recently broadcast on BBC Radio 4. Hal's new show Chubster premieres at the Pleasance Courtyard this August before touring from mid-September.
Robert Khan and Tom Salinsky met at university and have written together on-and-off ever since. Robert Khan read law at the Universities of Southampton and Cambridge and was called to the Bar in 1995. Since then he has worked variously in Parliament, policy and politics. Tom Salinsky is the artistic director of improvisation company The Spontaneity Shop, co-author of the book The Improv Handbook and he teaches presenting, public speaking and storytelling for a wide-range of corporate clients. He was in the cast for the improvised Radio 4 Drama A Time To Dance, which was nominated for a Sony Award. Together Khan and Salinsky co-wriiten works include Coalition ("Real class, don't miss it" **** The Times, "...slick and funny" **** The Scotsman), "an absolute gem" ***** Sunday Express), Kingmaker "Clever observations combine with cutting one-liners to hugely entertaining effect" Three Weeks, "Sharply satirical writing" The List) and Impossible ("Intriguing... enjoyable... told with terrific style" **** The Scotsman, "Thematic sharpness, entertaining brio, artfully strong, full of well imagined lines... a winner." ***** Libby Purves, Theatrecat.com. The have also written numerous Doctor Who dramas for Big Finish, most recently Kingdom of Lies starring Peter Davison and Patsy Kensit.
Pleasance Beyond, Aug 1 - 26. Book here.