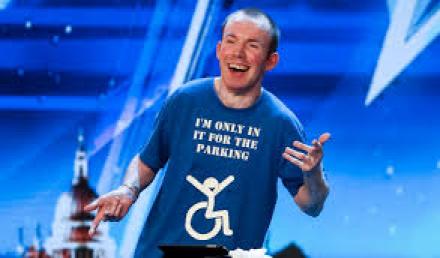 Lost Voice Guy has won this year's Britain's Got Talent final. 
The Newcastle based comedian whose lost his voice through cerebral palsy and whose real name is Lee Ridley, got the most votes from viewers. Another comedian, Robert White, came second.
Lost Voice Guy wins £250,000 and will perform in front of the Queen at the Royal Variety Performance. He joked, via his iPad which he speaks with, that he had loved the Queen since she sang Bohemian Rhapsody.
Lost Voice Guy Lost plays the Salford Lowry 11th Nov & Newcastle Stand 25th Nov .
Robert White is due to appear at the Edinburgh Fringe this summer with his new show, Robert White and his Particularly Silly Organ from August 8 - 10. Details here.