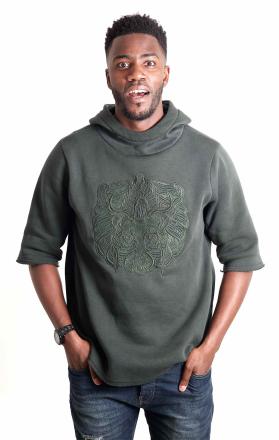 This interview first appeared back in March in the Evening Standard here. Since then viral superstar Mo Gilligan has gone from strength to strength with his own TV show in the pipeline. And he has just announced a run of shows at the Vaudeville Theatre in london in October. Details and tickets here.
Twelve months ago Mo Gilligan was selling jeans in the Levi's shop in Covent Garden. Today the 30-year-old from Camberwell is an online sensation. On Tuesday night he was onstage at the Albert Hall, one of the stars of the Teenage Cancer Trust's annual comedy night, more than holding his own between TV regulars Greg Davies and Dara O Briain.
"It's been quite full-on," he chuckles as we chat at the Leicester Square Theatre, where his own 20-show run opens tomorrow. Gilligan talks fast but is a master of chilled-out understatement. Online his character-based clips — Different Types of Girls in a Nightclub, or Days in the Life of a Geezer — have made him a star. His geezer creation's catchphrase, "Bring me a coupla cans" has been shared and shared. Drake referenced it and Stormzy is a fan.
Gilligan's gigs for his #CouplaCans tour were announced last autumn but more keep getting added. "My ambition is to play the O2 Arena. I live in south London so it feels like it is down the road." Although he wants to be as big as his idols Dave Chapelle and Lee Evans for now at least he also wants to remain accessible. "When Chris Rock played the O2 about a decade ago I couldn't afford the tickets, so I try to think of people in that position now so I've kept ticket prices for these shows at £15." 
He clearly knows how to connect with people. He puts this down to his time combining stand-up at night with working in shops during the day. "I always worked in retail — Primark, the Apple Store, Reiss. It's all about how you sell the product to them. When you do stand-up it's like selling a piece of clothing except that you are selling yourself."
This makes it sound as if he had some kind of Machiavellian masterplan, the truth could not be more different. Mo — short for Mosiah — wanted to be a stand-up from an early age but was only dabbling with putting sketches online. "I used to just make silly clips and put them on Snapchat and get maybe 80 views in a day. Then I did a clip of different types of DJ. I went to see the Jennifer Aniston film Office Christmas Party, put my phone on airplane mode and when I turned it back on it had gone crazy. In 24 hours I had a million hits."
The success enabled him to quit his job. The past 12 months have been a whirlwind of gigs and public appearances. He has worked with Adidas and been championed by Wiley. He now has the same publicist as Madonna, Rod Stewart and Micky Flanagan.
And he is about to get even busier. He recently filmed a new Channel 4 pilot with rapper Big Narstie, which is a major departure for him. "I'm a kind of co-host/anchor playing myself rather than characters. It's going to be a series and we start filming in June. Knowing I'm going to be on TV hasn't really sunk in yet."
One thing has not changed. Although he has a long-term girlfriend, actress Sophie Wise, he still lives with his mother. Gilligan's parents split up when he was five but he always spent time with his father at his home in Brixton too. "I think I've been very lucky. A lot of young black boys don't have a father in their lives." He still helps out around the house. "I love it, just me and my mum. Seal invited me to his show at the Palladium — that sounds so weird to say that — so I took my mum."
There is another woman in his life. Gilligan went to Pimlico School (now Pimlico Academy) and owes a lot to his drama teacher, Mrs Simpson. He was the class clown and could have easily gone off the rails had it not been for her support. "My reports used to say I was easily distracted, but she could see I was interested in hands-on stuff like performing. She was the first teacher to encourage me and that's all it took." 
But he also puts his success down to something else. The Law of Attraction. "It's where your write down what you want to put out there into the universe. All the things that are happening now are the result. At the start of every year I buy a notepad and put down the 10 things I want to happen. Then I put the notepad away in my drawer and go back at the end of the year."
He explains that he has previously written that he wanted to grow his fanbase, be a professional comedian and leave his job. All of these things have come true. I can't help but think that they would have happened anyway. It's perhaps more to do with his talent than writing things down Noel Edmonds-style, but Gilligan is convinced this positive-thinking technique helps. 
Fame has happened so fast it doesn't seem to have hit him. He is still flattered by selfie requests. "A lot of those people put me in the position I'm in today so the least I can do is take a selfie with them." 
There are only occasional downsides. "Sometimes you get recognised when you don't expect it. I was at the gym and sweating buckets and this guy asked for a selfie. I said: 'This is not the right time, man...'"
More about Mo here.