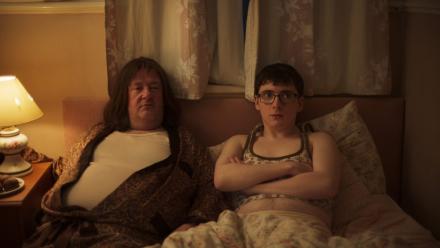 New British comedy film Eaten By Lions is to get its world premiere at the Edinburgh International Film Festival on June 21.
Eaten By Lions stars Antonio Aakeel (City of Tiny Lights, Tomb Raider, The Hungry, Skins), Asim Chaudhry (People Just Do Nothing, Hoff the Record), Jack Carroll (Trollied, Britain's Got Talent), Johnny Vegas (Still Open All Hours, Benidorm), Kevin Eldon (Game of Thrones, Hot Fuzz) and Vicki Pepperdine (Getting On, Camping, Together). It will also showcase at the Bagri Foundation London Indian Film Festival from Monday 25th June.
Written by David Isaac (Coronation Street, Lunch Monkeys, Life of Riley) and Produced by the Award-winning Hannah Stevenson (In Another Life), Eaten By Lions is director Jason Wingard's second feature film. His first feature 'In Another Life'  won Best UK Feature at Raindance 2017 and picked up the BIFA Discovery award (British Independent Film Award). 
Eaten By Lions tells the heart-warming story of half-brothers Omar (Antonio Aakeel) and Pete (Jack Carroll), who were raised by their Grandma after their parents were tragically killed by lions in a bizarre accident. When their beloved Gran passes away, they embark on a life-changing journey to find Omar's real father. What follows is a funny and touching journey of self-discovery for both boys...in Blackpool. The Choudray family represent a truly contemporary example of modern multicultural Britain, but what will the brothers make of their eccentric newfound family?
It is a tale of one boy's (Antonio Aakeel) search for his biological father and his own sense of identity, and the unexpected ways in which friendships and a sense of belonging are formed in a multicultural society.
Director Jason Wingard says: "The story is essentially about the importance of family. I wanted the viewer to forget about incidentals such as race or disability and focus on the characters. It's an attitude we applied to everyone in the film really. The story deals with big contemporary issues (class, diversity, disability, inter-racial relations, foster and adoption, sexuality, love, life and death) in a sharp and often irreverent way. A comedy with heart without skimping on laughs."
Jack Carroll said: "I loved the warm, yet still cutting edge nature of the comedy, the expertly drawn characters and the positive message at the heart of the story."
Johnny Vegas said: "It's a very relatable story about searching for something... like we all do, and the realisation that what you think you're looking for is often right in front of you."
Eaten By Lions Listings 
Edinburgh International Film Festival
Tuesday 19 June 09:10 Cineworld 12 (Press & Industry Screening)
Thursday 21 June 18:20 Cineworld 12 (Public Screening)
Saturday 23 June 13:15 Cineworld 5 (Public Screening)
Friday 29 June 09:00 Cineworld 12 (Press & Industry Screening)
Ticket link here.
Further UK Screenings.
Monday 25th June - 18:45 (London Stratford Picturehouse)
Wednesday 27th June - 20:00 (London Leicester Square)
Eaten By Lions is showing at Birmingham Indian Film Festival on Fri 29 Jun at 6pm: http://birminghamindianfilmfestival.co.uk/Eaten-By-Lions/
Saturday 30th June - 16:00 (Manchester)
Info here.