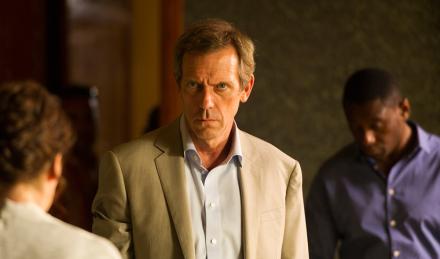 Hugh Laurie is one of the stars of Channel 4's six-part series Catch-22 alongside George Clooney. Based on the celebrated novel of the same name written by Joseph Heller, the series is executive produced and directed by Academy Award® and Golden Globe® winner George Clooney (Up in the Air, The Ides of March). They will be joined by Emmy® winner Kyle Chandler (The Wolf of Wall Street, "Bloodline") and Christopher Abbott ("Girls"), with further cast to be announced. 
Catch-22 follows the story of Captain John Yossarian (Abbott), a US air force soldier in World War II who can't understand why thousands of people who have never met him want to kill him. Yossarian is a rebellious and fearful anti-hero, who is trying to survive the war against the odds. Desperate to impress his superiors, Colonel Cathcart (Chandler) keeps raising the numbers of the missions his men have to fly. Yossarian is driven half-mad by his will to live.  He wants to complete his service and leave, but his efforts are blocked by Catch-22; a ridiculous bureaucratic rule which states that pilots don't have to fly if they are certified insane, but unfortunately for the men the same rule also states that being driven mad by fear is a rational emotion, which therefore means the individual is sane and able to carry on with the mission. 
Clooney will play the role of Scheisskopf, a training commander based at the cadet school in California. Scheisskopfisn't the most likeable man; he's not the type of person who puts his cadets' interests before his own career. He's ambitious, but also inept. Laurie will play Major de Coverley.   
The darkly humorous, yet tragic and absurdist satire is at once a resolutely anti-establishment tale and a cautionary exploration into the abuse of power and authority. As powerfully resonant today as it was 50 years ago when it was first published, "Catch-22" uses the most absurd and illogical of situations to lay bare some of the most profound human fears.
"I'm very excited to be working with Channel 4 to bring the classic Catch-22 to their channel. I couldn't think of a better place to be doing this," said Clooney.
Ian Katz, Director of Programmes, Channel 4, added; "It's hard to imagine a work that speaks more directly to the frequently absurd times we live in, and to the growing sense of individual distrust of institutions, than Catch-22. David Michôd and Luke Davies have produced a script that crackles with irony, anger and humanity. I'm thrilled that it will be a part of our stellar 2019 drama offer." 
"We are very excited to be bringing this exceptional new series to the UK through this agreement with Channel 4," said Dan Cohen, President, Worldwide Television Licensing, Paramount Pictures. "With an outstanding cast and award-winning creative team, we are confident that this adaptation of 'Catch-22' will resonate with a wide international audience."
Laurie most recently made waves in a straught role in BBC drama The Night Manager (pictured).
The series is set to air on Channel 4 in 2019.