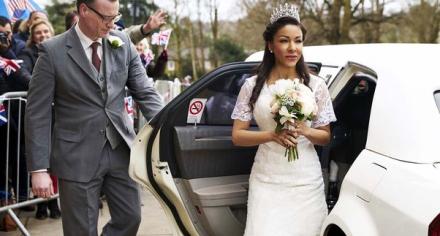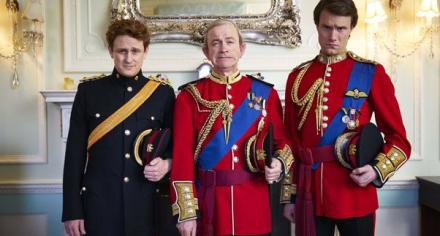 Harry and Meghan are excited about their impending marriage but before their big day they must take Charles (Harry Enfield) to America to meet Doria, Meghan's down-to-earth mum.
Back in the UK, Wills and Kate are struggling to cope with the added duties of having a third child, leading to a marital crisis.
And Pippa has a violent reaction to Harry's looming marriage which brings out the worst side of her jealous nature.
The Windsors Royal Wedding Special, May 17th 2018 at 9pm on C4.
Read an interview with Kathryn Drysdale who plays Meghan Markle below. Read an interview with Richard Goulding who plays Prince Harry here.
Did you do any special research for this royal wedding special?
I did. I watched the interview with Meghan and Harry, the broadcast engagement interview. And I also watched a couple of YouTube clips of Meghan Markle at some of the events that she attended.
And what kind of time period does the special cover?
The special covers from the engagement on to a few days before, a week before the wedding. So it covers the engagement period, it covers the stag period and it covers the whole build up to the wedding and the actual wedding itself.
What can you tell us about the special?
It's a lot of fun! I think it's probably the funniest Windsors episode to date. The writing is just… it's literally belly laughs watching it. Certainly for me watching the scenes that I'm not in, I was belly laughing. There's a lot of fun to be had and the writers have really gone to town on it.
Can you tell us a bit about what happens to Meghan in the special?
For Meghan, quite a lot happens. We go from the actual proposal and all the preparations in terms of the engagement. And then we see her going to LA with Charles to meet Doria, meeting the in-laws. We see the stag do, which she sort of ends up organising which is funny because we have the stag in LA. Then we see her coming back for the wedding preparations in Windsor Castle. There's a lot of surprises and twists and turns in the interim. And there's a kind of 'will-they-or-won't-they' element at one point.
Have the writers have been waiting for details about the wedding to leak, or have they made up this world as complete fiction.
They've taken their own initiative here and speculate what might happen. It's mainly just these guys and their imaginations. The world of The Windsors is not reality.
Was it fun putting on the wedding dress and the tiara? What was that like?
It was fun putting on the wedding dress, apart from the fact that when we were shooting the exterior of me arriving at the castle there were particularly strong winds – some of the strongest winds we'd had for years in England, I think – and my tiara fell off, the wonderful hairdo the hair and makeup team had spent hours doing all kind of collapsed! So we had to rush inside the set and redo everything. And the crown was quite heavy, actually. But yeah, it was fun. You forget what it's like, obviously for people who get married they have to stay in their dresses for a long period of time and it's quite heavy. I enjoyed getting out of the car, greeting the British public in my dress, it was a lot of fun!
Will you be watching the Royal Wedding? If so where and who with?
I will most definitely be watching the Royal Wedding. Probably with my boyfriend and I don't know where yet but we will definitely be watching.
Did you do anything special for Will and Kate's wedding? Did you watch it? If so, do you remember where you were?
I did! I watched Kate and Will's wedding with one of my best friends, Andrew Lavin, who's a production designer. We had a lot of fun. We got the little flags and little hats, and we had a little tea party.
What do you think about Meghan Markle?
I love Meghan Markle. For me I can relate to her in that we're both mixed race and we've both been actresses in a label driven industry. I like the fact she hasn't defined herself by her relationship She's still doing her own thing, her own work. She's a fantastic activist as well. She's intelligent, she's beautiful. So yeah, I think it's great we're going to have a mixed race princess in the royal family.
Have you watched Suits, and if so what did you think?
I haven't really watched Suits. I've watched clips of Suits. My parents are big Suits fans and they've probably not missed an episode but for me… we do do a scene from Suits. It is The Windsors version of it so I didn't need to do too much method acting with that.
Obviously it takes a different approach to the royal family but have you seen The Crown?
I have seen The Crown. I think it's amazing. It's a very different approach to the royal family. I'd love to be in The Crown but I don't think that would happen.
The cliché is that all girls would love to marry a prince. Would you want to swap places with Meghan Markle and marry a prince?
No, I wouldn't want to swap places with Meghan Markle and marry a prince. I got my own version of a prince so I'm very happy.