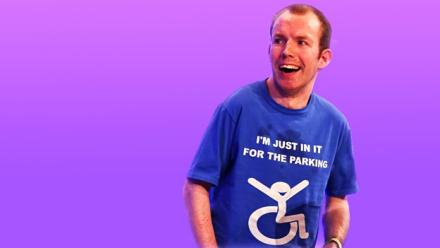 Two new comedy shows have been commissioned by Radio 4 as part of a major new season of forthcoming programmes which explore the experiences of people and communities across the United Kingdom.
The two comedies, from Lost Voice Guy (pictured) and Ashley Blaker, are as follows:
Ability
2, 9, 16 and 23 May 2018, 11.30am-midday
From the 2 May Radio 4 presents a new sitcom starring BBC New Comedy Award winner Lost Voice Guy (real name Lee Ridley - pictured), Ability. What happens when someone with cerebral palsy moves out from his parent's home and into his best friend's flat? Lost Voice Guy has cerebral palsy and can only speak via a computer. Ability uses Lee's experiences of coping with this disability and weaves them into a sitcom.
Matt is leaving home for the first time to move in with Jess, his best friend from school. Matt's parents are worried; they have always done everything for him. But Matt is determined to find his independence – though his new carer Bob isn't quite what he expected.
Produced by Jane Berthoud
Written by Lee Ridley and Katherine Jakeways
A Funny Bones production for BBC Radio 4
Ashley Blaker's Goyish Guide To Judaism
27 May 2018, 7.15-7.45pm
In Ashley Blaker's Goyish Guide To Judaism on 27 May, Blaker presents an insider's view of his religion, specially created for BBC Radio 4. Ashley is already a well-known name in the Jewish community and the only strictly Orthodox Jewish comedian in the UK. He has been described as 'the haredi Michael McIntyre'.
Produced by Steve Doherty
A Giddy Goat production for BBC Radio 4
The season also includes:
A three-part series exploring dialect poetry in three areas of the UK
A two-part documentary looking at how transport divides the nation
Still Here: A Polish Odyssey explores the story of the least-known influx of Polish people to Britain after WWII