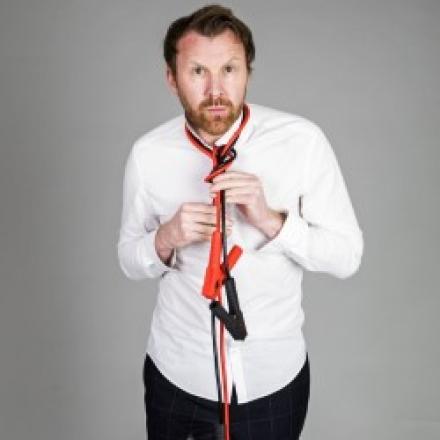 Assembly Festival (1st – 27th August 2018) has announced an additional 76 shows on sale.
Some of the biggest names in comedy go on sale today including Jason Byrne (pictured), Andrew Maxwell, Simon Evans, Hardeep Singh Kohli (pictured) and performance poet John Hegley. These well-known talents are joined by other multi-award winning comedians including impressionist and vocal gymnast Jess Robinson, the star of '8 Out of 10 Cats Does Countdown' James Hancox, and youtube sensation American improvisational comic Kate Berlant. 
Highlights from this year's theatre programme include: hilarious new musical My Left/Right Foot – The Musical from the National Theatre of Scotland and Birds of Paradise who celebrate their 25th anniversary this year; Joanne Hartstone's new show That Daring Australian Girl about the remarkable true story of suffragette Muriel Matters;Heaven Burns about a witchpricker in the 1600s which won this year's ART Award; Sylvester McCoy (Dr Who, Hobbit) and Robert Picardo (Star Trek Voyager, Stargate Atlantis) in Dan Freeman's hit play A Joke - exploring our attitudes to humour and life; Alison Skilbeck (star of the 2017 'The Power behind the Crone') returning with the heart-warming Are There More of You? about the linked tales of four women with only a postcode in common; Thor and Loki by Harry Blake - a fierce and fabulous new comedy musical featuring epic battles, fiery ballads and a chorus of tap-dancing trolls; and Kate Kennedy (BBC's Midsummer Night's Dream, C4's Catastrophe and The Win Bin) inHunch - her new dark comedy about the power of gut decisions.
More great cabaret on sale from today comes from 'cult feminist disco' the Fringe Wives Club awarded best cabaret act in Adelaide 2017 and, from the producers of 'How to Win Against History', comes Prom Kween - a coming of age satire about falling in love with who you are. Gingzilla the iconic 7ft ginger-bearded drag queen returns to Edinburgh this year, as does the sensational Le Gateau Chocolat and Chaz Royal's Best of Burlesque and Danger Strip Show.
Jonny Woo brings us his All Star Brexit Cabaret show; and the brilliance behind 2017 smash hit 'My Leonard Cohen' returns with Belly of a Drunken Piano celebrating the songs of Tom Waits, Randy Newman, and Ian Dury.
Mixing theatre, circus, dance, music, and acrobatics is the internationally renowned The 7 Fingers troupe with their shows Reversible and Sisters - a new fairytale exploring the beauty and complexity of the passionate relationship that undoubtedly connects two sisters. This new piece directed by Gypsy Snider, is created and performed by Ayin and Miriam de Sela,  accompanied on stage by William Underwood (seen in Traces by The 7 Fingers) and harpist Sarah Pagé, and premieres in Montreal in July before coming to Edinburgh for the Fringe. Other unmissable circus hits are Casting Off a hilarious and disarming show featuring the super talents, minds and muscles of three generations of women who all met at Circus Oz; and Flip Fabrique returning with their high energy 5-star showAttrape Moi. 
Other Festival favourites returning include: Greg Byron's fast-paced Wordshow; Gypsy Queen - the critically acclaimed love story between two fighters; the runaway hit of 2017 Choir of Man; The Magnets with Volume 2 of the Naked 80s; the extremely talented 360 Allstars; Peter Arnott and Cora Bissett's Janis Joplin Full Tilt; and musical comedy from Australia's favourite bickering twins The Stevenson Experience. 
William Burdett-Coutts, Artistic Director of Assembly Festival said: "We are looking forward to a fantastic festival this summer. Our programme is packed with new talent, returning favourites and some truly incredible shows, that demonstrate the real breadth of world-class performance that comes to Edinburgh every August." 
Assembly's programme so far is available at www.assemblyfestival.com