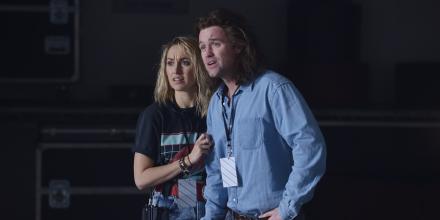 For the second short Urban Myths film in this run of reimagined famous events it is July 1985, we are backstage at Live Aid and, understandably, organiser Bob Geldof is in a bit of a tizzy. Nobody seems to want to go on, because they've twigged that the start of the show won't be broadcast live in America.
Is this true? Who knows? The programme credits make it clear in the first minute that it is not all true and Geldof himself (played by Jonas Armstrong) says at the outset that bits of what you are about to see are "bollocks". But not to worry, in the end the amiable if dopey Rick Parfitt agrees that Status Quo (played by Seb Cardinal and Dustin Demri-Burns) should go first. And given that their first song is Rocking All Over The World there is some logic to this.
Writer Neil Forsyth's script certainly touches on a lot of stories that have been bandied around for years about the epochal rock event. Did Geldof move the Boomtown Rats around on the bill so that Princess Diana would see them? Did Midge Ure get stitched up? And did Midge have an argument with Bob where he accused him of not being able to jump and land on the beat? I don't know but Martin Compston is brilliant as the intense erstwhile Ultravox front man.
Elsewhere it is fun to watch the other actors playing rock icons and to decide how close they get the look. Karla Crome is a very down-to-earth Sade (which is what she was probably like). David Avery certainly has the teeth and the hauteur of Freddie Mercury. Rufus jones is hilarious as Elton John having a hissy fit, even though he appears to be channeling a mix of Danny Baker and Tommy Cooper.
There are passing glances of Bowie and Bono too. And Con O'Neill plays the sound man worried about power failure as if doing a Scouse Scotty from Star Trek - I was sure he was going to say "the loudspeakers cannae take it, Bob" at one point. Oh, and Kerry Howard keeps Geldof sane as his assistant Marsha. It's certainly good fun to watch. We all know what happened on the stage. Now we know what happened behind the stage. Or do we? 
Urban Myths – Backstage At Live Aid, Sky Arts, 9pm, Thursday, April 19. All episodes available to Sky Subscribers now.