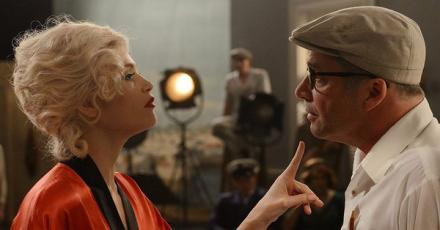 Later in this new series imagining and fleshing out famous showbiz stories we've got the prospect of Noel Fielding as Alice Cooper and Jack Whitehall as Marc Bolan, but first up is Gemma Arterton as Marilyn Monroe in It's Me. Sugar.
The scene is Hollywood in 1959 and director Billy Wilder (James Purefoy) is directing Monroe, Tony Curtis and Jack Lemmon in Some Like It Hot. The trouble is that Monroe, playing Sugar 'Kane' Kowalczyk, can't get the line "it's me. Sugar" right. Take after take she manges to fluff a word, forget a word or completely balls it up. It's only three words for god's sake.
Could it be that there is something stronger than orange juice in her flask? Or is it really just nerves. "What's my motivation?" she asks her acting guru Paula Strasberg, played by Felicity Montagu. Even though the only motivation should be that as soon as she gets it right they can all knock off for the day.
Instead she is holding everyone up including her husband, playwright Arthur Miller (Dougray Scott), who can't resist offering Wilder script tips. As for Tony Curtis, he tries calming Monroe's nerves by snogging her, which he dsecribes as "kissing Hitler".
Arterton doesn't look much like Monroe but she touches on her character's psychological complexity and intellectual aspirations. The stand-out turn is Adam Brody as a green dress-wearing Jack Lemmon, though Alex Pettyfer is pretty good too as the impatient, long-suffering Tony Curtis. They all seem to be having a much better time on set than the characters they are playing had in 1959.
Eventually something works. We aren't saying what or how many takes. Let's just say it is worth watching to the end of this neat little film written by Dave Cummings and directed by Sean Foley – and not just for a little in-joke for those familiar with the actual film that eventually became a huge hit. 
Thursday, April 12, Sky Arts, 9pm. All episodes available to Sky Subscribers now.