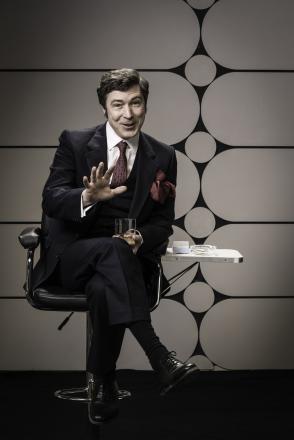 I got in late on Easter Monday so I watched an old repeated documentary, Dave Allen: God's Own Comedian, before I watched the eagerly anticipated new BBC2 biopic, Dave Allen At Peace. This might have put the TV drama in context, what it actually did was totally overshadow the TV drama. It was way funnier and told us way more about the legendary irreverent, intelligent Irish comedian.
I'm not sure if something went wrong in the making of the drama, scripted by Stephen Russell, who also wrote the much better We're Doomed! The Dad's Army Story (and director Andy De Emmony did the superior Kenneth Williams story Fantabulosa!), but it was way too thin and slight for such an intriguing, important figure. It was only an hour long and yet a substantial chunk of it consisted of recreated sketches from Allen's famous TV shows, which also appeared in God's Own Comedian – stripping priests, Mexican firing squads, etc.
Alongside this we got the basic story of Allen's life from losing part of his finger as a child and developing a dislike of nuns after being whacked on the knuckles at his Catholic school, to being a Butlin's redcoat, becoming a star, making a comeback in middle age and getting into hot water for saying "fucking" on television.
There was a little bit about his father (nice turn from Tommy Tiernan) telling him to come up with a good story about losing his finger and some stuff about friction as well as love from his older brother. But watching it on iPlayer I wondered if the streaming had jumped. It suddenly went from him being fitted for a suit when he was a big BBC star in the late 1960s/early 1970s to loitering at the back of a pub watching an alternative comedian in 1985.
While there were nice cameos from Julian Rhind-Tutt as Allen's manager, Simon Day as TV exec Lew Grade and Pauline McLynn as a knuckle-whacking nun*, the big disappointment was Aidan Gillen. After seeing those tantalising spot-on publicity shots of him as Allen perched on his trademark stool Gillen never really had a chance of getting his teeth into the script. Too much of it was about Allen's childhood where he didn't figure. And the less said about DWS (Dodgy Wig Syndrome) when he played the older Allen the better. An open goal missed by a mile. Watch the documentary instead.
Watch on iPlayer here (not really worth it though). Watch the documentary Dave Allen: God's Own Comedian instead here.
Picture: BBC/Darlow Smithson Productions/Endemol Shine 
*Cold Feet's Robert Bathurst also appeared as BBC Director-General Charles Curran - it struck me that he'd be a shoo-in if they ever, heaven forbid, make a Piers Morgan biopic.