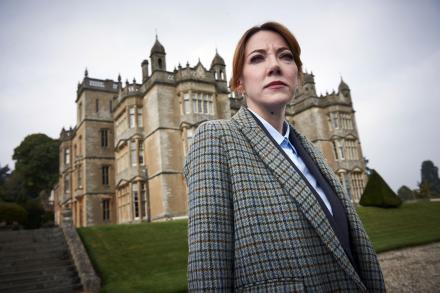 The dimwits are taking over. Philomena Cunk, alias Diane Morgan, finally gets a whole series in which she has the chance to look at the entire history of Britain, interview various experts and, while she is at it, get things hopelessly, hilariously wrong.
If the BBC had wanted to be political they could have called the first of five episodes Cunk On Brexit as it is splattered with references to getting our country back and shaking of European shackles. William the Conquerer's invasion was Brexit backwards, we are told. Charlie Brooker is behind the concept of Cunk, who started out with short slots on his Wipe shows, so in some ways this is Brooker's most political work yet. Far more overtly taking a stance than anything he has done in Black Mirror.
But it is also very funny, and that's essentially down to Morgan's dead-eyed, doe-eyed Lancastrian-accented delivery, from standing on hilltops asking why John Major was called the Prince of Onions (I don't think he was, maybe I misheard) to suggesting that the Tudors were very much the Kardashians of British history (maybe they were).
The performance craftily sends up the styles of Simon Schama, Lucy Worsley etc and is also peppered with plenty of pithy lines. "Dinosaurs came in many flavours, just like kettle chips," apparently. And at least if you got the black death you got time off work.
The interviews with experts that punctuate the mock-doc are very much in the classic Ali G style, with Morgan never breaking character, however flummoxed the interviewees are. ITV's Robert Peston almost combusts when she asks him what the most political thing to ever happen in Britain was.
All of this plus a disturbing obsession with Karl Howman in Brush Strokes makes Cunk on Britain essential viewing. Who knows, you might even learn something. Though probably not.
Cunk On Britain, Tuesdays from April 3, 10pm, BBC2.
Picture: BBC/House of Tomorrow/Adam Lawrence