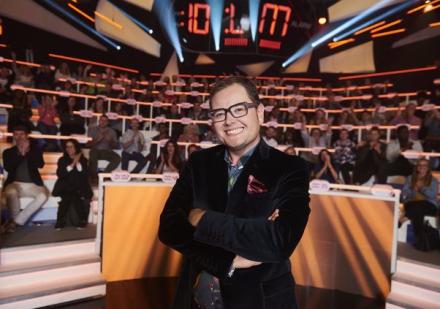 Tell us about I Don't Like Mondays
It's a game show that not only promises you a year off work but it pays your wages for a year as well - not bad eh? The catch is, in order to get the year off and the money you have to resign to your boss on the show.
Nothing like this has been seen on TV before. What attracted you to the premise?
It was just such a unique idea, I hadn't really fancied doing a game show - but it was such a good idea I just had to say yes - especially as I have had the worst jobs going so I knew it was a prize that would excite the people in the audience – and the viewers at home hopefully!
What would you do with a year off work?
Catch up with friends and family - I've just had the busiest year and I keep missing birthdays and celebrations so it would be great if I could be there in person rather than sending a bunch a flowers or a grovelling apology by text.
What were some of the more memorable options given by your IDLMs audience for their years off?
It really was the whole gamut - one person wanted to build a school in their native Sierra Leone, one person wanted to party around the Greek Islands and one woman wanted a Kim Kardashian bum lift!
Did you ever have a job when you were younger that would have made you apply for the series?
If so, tell us more. How long have you got?!! I swept up in factories, packed shampoo, worked in call centres, been a drivers mate - believe me, I would have been a regular on 'I Don't Like Mondays'.
Tell us about the celebrity guests in the three episodes – what madcap exploits do you get up to?
I bubble wrap sumo wrestle (don't ask) with Jonathan Ross, I do a water cooler ski jump with Amanda Holden and on one show due to my back fat, I got stuck in a cement mixer. I think even people in the audience were saying 'I think I'll stick with MY job'.
What does a typical Monday morning look like for Alan Carr?
My weekends are normally busy with work so Mondays is my day off so I'm probably one of the few people whose face lights up when the alarm goes off Monday morning. If I set my alarm at all - now I'm just rubbing it in aren't I?!!
If you weren't in the Entertainment industry, what would you be doing?
Something to do with death - pathologist, or maybe an embalmer.
This must have been the type of the show that would have attracted people from all sorts of professions. What kind of professions did you have?
Every type of profession from every walk of life. It was interesting because you realise how prejudiced you are when it comes to peoples jobs. Your heart naturally went out to the nurses and the carers and you were sort of willing them to win whereas the vivisectionist and abattoir worker maybe not so much.
And finally… was there ever a point during the show where you were tempted to draft your resignation letter and go and sit in the audience?!
Only when I got stuck in the cement mixer.
I DON'T LIKE MONDAYS starts on Friday 6th April on Channel 4 at 8pm
Interview supplied by C4