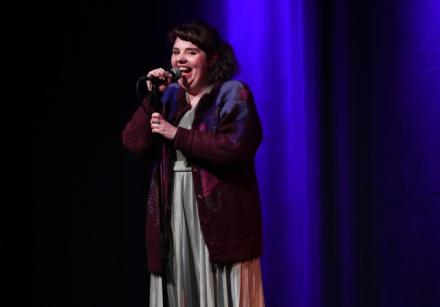 Over a 100 acts applied to be in this year's Sketch Off Competition and after heats it was whittled down to a final ten. Compere Colin Hoult, in the guise of waspish thespian Anna Mann, described them as "doing something that nobody wants," but an enthusiastic crowd – who presumably weren't friends of all the acts – suggested that there is definitely an audience for this theatrical branch of comedy.
First up was The Delightful Sausage. The duo was of the most experienced acts on the bill, having already done a full length show, but they really suffered from being the opening act. Their main sketch was a send up of a lesson to teach people internet skills, so that old people, for instance, "can send racist texts". It was clever and funny and dark, but not quite clever, funny or dark enough on the night to get them a placing. But The Delightful Sausage clearly has plenty of talent. They just drew the short straw and the, ahem, wurst, slot.
Anna Mann had a dig at Oxbridge sketch acts at one point during the show and could have been referring to Sam and Tom. The duo may, of course, have grown up on a council estate and worked on the bins since they were six but they certainly looked as if they had just left Hogwarts. Just as they were building up momentum they seemed to finish and got some supportive applause, only for them to do another phone-based sketch with one of them offstage. A bit of editing and tighter direction and they may go further.
Adrian Gray was more character act than sketch comedian, a spoof angry young man fighting for "justice for majorities". Never mind #metoo, he argued, men have it tough as well. It was sarcastic and smart and had a great pay-off, but maybe he stood out mainly because he was not a double act.
A problem of these quickfire competitions is that unless acts are really distinctive they can start to blur together. Male/female two-hander Hot Mess bounded onstage and had energy and likability but little to distinguish them. Final act of the first half, Bread & Geller was another male/female duo and looked to be going in the same direction until they finished with a song, inspired by one of them mistaking a cough for a sneeze. This infectious number was the perfect way to finish the first half and when the judges met it earnt them third place.
Picture: Steve Ullathorne.
Review continues here.