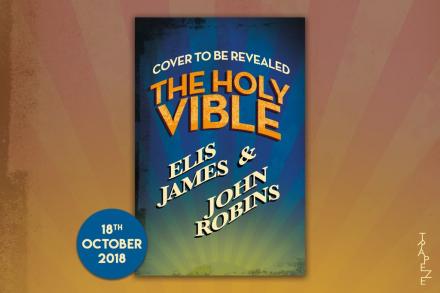 Comedians Elis James and John Robins are writing a book to be published later this year.
The Holy Vible will be published by Trapeze Books on October 18 inspired by the duo's chats and in-jokes about obsessions, trivia, beer and more on their cult Radio X show.
The blurb sets out their philosophy: "Have you ever failed to Keep It Session? Is your new flatmate a complete coin? Have you ever eaten Space Raiders on the toilet and written 'Grief Is Living' in your journal? Then this book is for you. If not, don't worry, it won't be long before you're making up games, looking at Freddie, or facing your own personal farthing-gate."
"Our obsessions make us what we are, and though you may never have addressed a will to Brian May or cried watching Ronnie O'Sullivan make a 147, you'll have done something similar, and Elis and John are here to tell you that you're not weird, so come on in, and taste the vibe! Or should I say, READ the vibe!"
James and Robins met in 2005 performing stand-up in a pub called The Yellow Kangaroo in Cardiff. They eyed each other suspiciously before Robins offered the limpest handshake in the history of the world.
'It was a power play,' says Robins. 'I may even have raised it for him to kiss.'
James expands: 'It was one of the weirdest things I'd ever experienced, but having known John now for over a decade, it was the tip of the iceberg. I can honestly say he's the oddest man I've ever met.'
Published Oct 18. Buy here.
Elis James and John Robins are on Sunday Brunch, C4 on October 28.