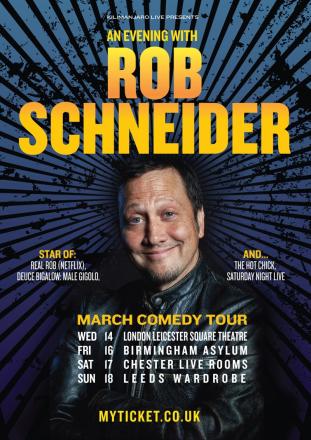 US comedian Rob Schneider is coming to the UK this March for a 5-date tour, visiting London, Glasgow, Birmingham, Chester and Leeds. The former Saturday Night Live star appeared in hit movies Grown Ups, You Don't Mess With The Zohan, Big Daddy and The Waterboy and Deuce Bigalow: Male Gigolo. The San Francisco-born funnyman is well known for his trademark blend of character and comedic acting, and has become one of the most popular touring acts on the live comedy circuit. More recently he fronted the TV show Real Rob, a docu-series which is already into its second season on Netflix and follows the everyday life of Rob, including his real-life wife Patricia and daughter Miranda. The series marks the first time any actor has ever written, produced, starred in, directed and financed an entire season of a television show. 
Rob Schneider's UK tour runs from March 14 - 18. Buy tickets here.
What is the last thing you do before you go onstage (apart from check your flies and/or check your knickers aren't sticking out of your skirt and check for spinach between your teeth)?
       Smoke whatever was just given to me by the theatre's stagehand before finding out that he doesn't really work there.
       Social Media. The idea that some irritable young 20-year-old reality star, who can't even drink beer legally, can tweet about not using Snapchat and the stock tumbles 1.7 billion dollars in value. Especially when I own stock in Snapchat!
What is the most dangerous thing you have ever done?
       Killing several film critics and burying them under the movie theatre in my home.
What is the most stupid thing you have ever done?
       Telling this website that I killed several film critics and burying them in my home.
What has surprised you the most during your career in comedy?
       That people would someday be able to instantaneously complain about you on the same device that they call their mother on, get directions, find recipes for couscous and watch porn.
Interview continues here.