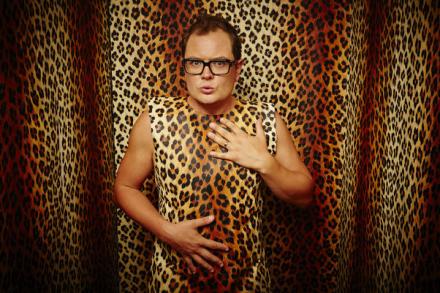 Alan Carr will be part of C4's coverage of this year's Crufts competition.
Crufts returns to TV screens in early March, spanning both Channel 4 and More4, with even more hours broadcast from this year's Kennel Club competition. The world famous event will see over 22,000 dogs and 140,000 visitors descend onto the NEC Birmingham – and Sunset+Vine and Mentorn Scotland, both part of the Tinopolis group, will produce 14 hours of coverage with additional live streaming available online.
Chatty man Alan Carr will be hosting a daily afternoon entertainment show for all dog lovers, joined by Clare Balding, throughout the four day competition, including a preview show on Wednesday 7 March. The fun-filled, hour-long show will be live from Crufts and feature a range of four and two-legged guests discussing everything there is to know about the world of dogs. 
Clare Balding will again head up the daily live coverage from Thursday 8 March through to Sunday 11 March, covering everything from the 40th anniversary of the skilful Agility and fast-paced Flyball competition, to the 'The Best in Show' award on the final evening of the event.
Clare will be joined by long-standing Crufts commentator Peter Purves, fellow commentators Jessica Holmes and Frank Kane, sports presenting legend Jim Rosenthal and Professor Noel Fitzpatrick.
Finally, hour-long documentary Scruffts: Britain's Favourite Dog 2018, produced by Mentorn for the third year running, will air on Channel 4. The programme is presented by Alan Carr and follows the heart-warming stories of the six semi-finalist cross-breed dogs, all competing for the title of Scruffts Family Crossbreed Dog of the Year. The four-legged friends featured in the programme include Honey, a Staffordshire Bull Terrier/Whippet cross who assists owner and clinical psychologist Emma with her mental health work, and Anatolian Shepherd/German Shepherd cross Milo, who was rescued from Romania as a malnourished puppy and is now a happy and more confident dog with owner Charley.
Stephen Lyle, Channel 4 Commissioning Editor, Sport, said: "Crufts is so much more than a world famous dog show. It's a joyous four day celebration of our best friends and our relationships with them. And this year, Clare Balding and the team will be there with more action, stories and dogs than ever before."
David Stranks, Sunset+Vine's Executive Producer for Crufts, said: "Crufts is a fantastic and much-loved occasion, and we are proud to have successfully partnered with the Kennel Club for an incredible 10 years now. This year is particularly special as it is not only the 40th anniversary of the Agility event, but also the 40th year that veteran Crufts commentator, Peter Purves, has been involved with the production. Our team will again bring viewers all the drama, action and triumphs from the frontline of this popular and fun event."