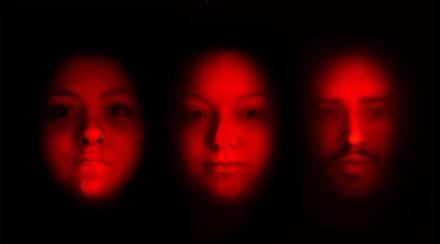 It's been a funny old year for sketch group with attitude Gein's Family Giftshop. The trio (plus non-performing writer Kiri Pritchard McLean) lost a member just before Edinburgh and had to do some quick thinking to keep the show on the road. The result, which has now come to London, seems to work pretty well.
The outfit was always keen on deconstructing the sketch comedy process so explaining that they've hired posh Lamda-trained Michael Sheen lookalike Adam Scott-Rowley to stand in for ex-member James when needed fits in neatly with their process. In fact if you didn't know the back story you might just think that this was just a postmodern gag as the original Manchester-based twosome bully and prod Adam for being a posh southern luvvie with a penchant for tedious theatrical anecdotes.
Elsewhere their humour is as trademark dark as ever, with a splattering of gags about murder and an energetic, violent undertow to the performances from Ed Easton and Kath Hughes. It may be no coincidence that their outfits at the start resemble the forensic onesies worn by people investigating killings on Silent Witness.
This is sketch comedy stripped down to its undies. In some places literally. There are no set changes, no blackouts, sometimes the scenes crash into each other. There is one punchline that takes about 40 minutes to arrive. Sometimes you think you've had the pay-off, such as when they are discussing which audience member they would like to fuck, and then another gag comes along. Gag is an apt word - this is the kind of sick fun that may make you choke as much as it makes you laugh.
At its best this is a rollercoaster ride of a comedy show. You simply don't know what is going to happen next, which is rare in comedy and makes them really exciting. There are themes here - sex, violence, death mainly – but even when they do an obligatory airport security routine it comes from decidedly left field.
It has been said that Gein's owe a debt to League of Gentlemen and by one of those strange coincidences this show ends with a routine that echoes a recent episode of Inside No. 9. They obviously didn't get the idea from Reece Shearsmith and Steve Pemberton - in fact the gag predates the recent BBC2 series. It just goes to show that sometimes macabre minds think alike.
Until February 10. Tickets here. Then on tour, dates and tickets here.