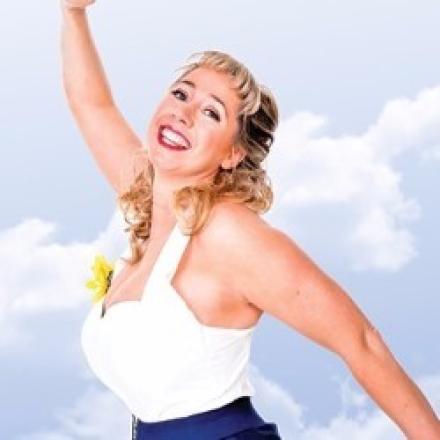 Tiff Stevenson is taking her eighth solo show Bombshell on tour across the UK in 2018. Bombshell premiered at the Edinburgh Festival's Gilded Balloon last August and is her most political show yet. The tour starts on 1st March at the Cambridge Junction and culminates in a 6 night run at London's Soho Theatre from 21st – 26th May.
So the world is on fire, a misogynist egomaniac is in the White House dropping his own bombs, unfortunately not metaphorical. Tiff came on her period the day the Trump presidency was announced, she can't help thinking the two are linked… a big kick in the ovaries. Feminists are marching, Meninists are complaining, and somehow Piers Morgan still has a career.
Bombshell has turned out to be right on the zeitgeist with material around consent and how Tiff might actually be synchronising with the apocalypse. She also tackles the increasing threat to reproductive rights, Creationists, and how Theresa May has ruined leopard print forever. 
In the last 18 months Stevenson has returned for the 3rd series of the BAFTA-winning People Just Do Nothing in her regular role as Tanya. Tiff also appeared as a series regular on the brand new E4 sitcom Game Face from Roisin Conaty as well as landing a part on the new BBC comedy White Gold from Damon Beesley (Inbetweeners). She made two appearances on Mock the Week and made her debut on 8 out of 10 Cats.  In Sept 2017 Tiff was selected by Abbi Jacobson (Broad City) to take part in the inaugural Live From Virgin comedy festival. Her 2014 show Optimist was selected by Virgin Atlantic to be screened in-flight. She recorded sets for Kevin Hart's Laugh Out Loud Network, and Just For Laughs: All Access, earning her a development deal with Warner Brothers 150 Project. 

And in  January last year her satirical character Bridget Trump went viral and she appeared in Entertainment Magazine, People Magazine, Comedy Central and Mashable (for which she is now a regular contributor). She has also been interviewed by Total Politics Magazine and written for a plethora of broadsheet papers across the globe. 
For tour dates click here.