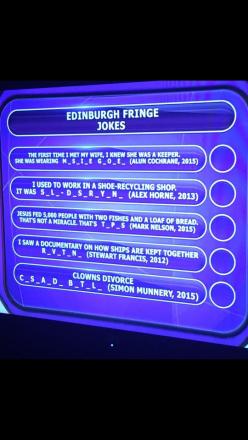 A number of jokes told by comedians at the Edinburgh Fringe Festival have appeared on an edition of BBC quiz Pointless.
Scottish comedian Mark Nelson's gag that came fifth in Dave's Joke of the Fringe competition in 2015 was one of them:  "Jesus fed 5,000 people with two fishes and a loaf of bread. That's not a miracle. That's tapas." When Nelson found out about this he said on Facebook: "This might be the best thing that has ever happened to me. "
The other jokes featured in the Pointless question also featured in various Dave Joke of the Fringe charts. They were:
"The first time I met my wife, I knew she was a keeper. She was wearing massive gloves."  by Alun Cochrane, joint eighth in 2015.
"Clowns divorce. Custardy battle." by Simon Munnery, joint eighth in 2015.
"I used to work in a shoe-recycling shop. It was sole-destroying." by Alex Horne, second in 2013.
"I saw a documentary on how ships are kept together. Riveting!" by Stewart Francis, eight in 2012.
Picture: Joe Gardner