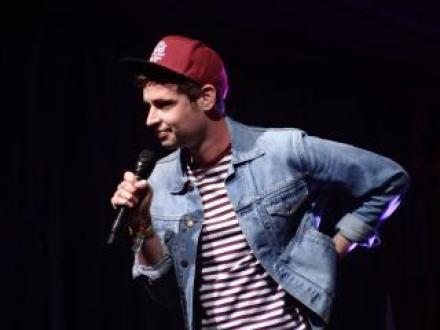 Comedian Brennan Reece has extended his sold-out UK tour into 2018.
Reece, who recently supported Rob Brydon on tour, has just been confirmed as the voice of the new winter version of Love Island.
Survival Of The Fittest will air on ITV2 and will pit a team of women against a team of men in the ultimate battle of the sexes.
Reece, who picked up a lastminute.com Edinburg Comedy Award Best Newcomer nomination in 2016, says: "I am so excited to be a part of the show. The closest I have ever come to being on Safari was a school trip to Chester Zoo one November, no one wants to see a crocodile shiver."
His tour includes five nights at the Soho Theatre in June. Full dates below. 
JANUARY
Saturday 20 - SALFORD (The Lowry Theatre) - TICKETS HERE
Thursday 25 - HULL  (Kardomah 94) - TICKETS HERE
Sunday 28 - EXETER (The Bike Shed Theatre) - TICKETS HERE
FEBRUARY
Saturday 3 - AYTON (Helmvaart Bier Cafe) - TICKETS HERE
Sunday 4 - LEEDS (The Underground Ballroom) - TICKETS HERE
MARCH 
Thursday 8 - SADDLEWORTH (Millgate Arts Centre) - TICKETS HERE
Friday 9 - KNARESBOROUGH (Frazer Theatre) - TICKETS HERE
Saturday 10 - DAVENHAM (Davenham Theatre) - TICKETS HERE
Thursday 15 - BRISTOL (Smoke & Mirrors) - TICKETS HERE
Friday 16 - KENT (Tom Thumb Theatre) - TICKETS HERE
Saturday 17 - CAMBRIDGE (Cambridge Junction Theatre) - TICKETS HERE
Sunday 25 - BRIGHTON (Komedia) - TICKETS HERE
Thursday 29 - GLASGOW (The Stand) - TICKETS HERE
MAY
Thursday 24 - EDINBURGH (Rose Theatre) - TICKETS HERE
Sunday 27 - YORK (The Courtyard, York Uni) - TICKETS HERE
JUNE
Tuesday 12 - LONDON (Soho Theatre) - TICKETS HERE
Wednesday 13 -  LONDON (Soho Theatre) - TICKETS HERE
Thursday 14 -  LONDON (Soho Theatre) - TICKETS HERE
Friday 15 -  LONDON (Soho Theatre) - TICKETS HERE
Saturday 16 -  LONDON (Soho Theatre) - TICKETS HERE
Picture © Bruce Dessau