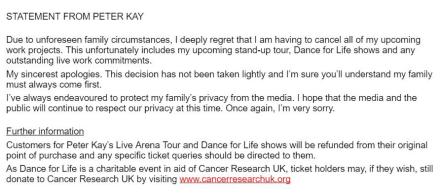 Peter Kay has just issued the attached statement on social media, announcing that he has cancelled all upcoming work projects.
The statement says that this is due to unforeseen family circumstances. This includes all of his Dance For Life DJ gigs and also the enormous stand-up tour that was planned for 2018 and 2019.
He goes on to say that "this decision has not been taken lightly and I'm sure you'll understand that my family must always come first."
He added: "I've always endeavoured to protect my family's privacy from the media. I hope that the media and the public will continue to respect our privacy at this time. Once again I'm very sorry."
Kay's first tour in eight years was due to be one of the largest-ever stand-up tours as well as one of the most lucrative. When tickets went on sale last month extra dates had to be added.

Kay has said that as he has had to cancel his Dance For Life disco shows which were raising money for cancer research fans who get refunds but still want to support cancer research can donate at www.cancerresearchuk.org.
The BBC has said that his two new episodes of Car Share have already been filmed and will be broadcast next year.

For refund information click here.