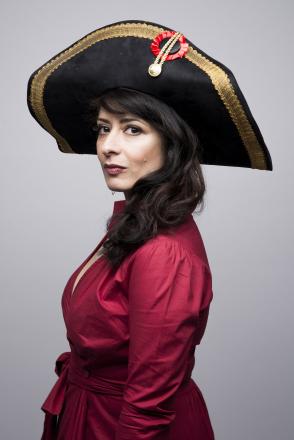 Shappi Khorsandi is to tour the UK with her latest show Mistress and Misfits, exploring the life of Emma, Lady Hamilton and much more. The tour starts on January 26 in Bath.
For too many years Lady Hamilton has been known as just Nelson's mistress, a bit of a harlot (you get one job in a brothel and bang goes your reputation). Women's lib wasn't a thing in Georgian times. Emma moved mountains to haul herself from scullery maid to Lady Hamilton ... and yes, she occasionally danced naked on tables to get ahead in life, but who hasn't? As a fellow naked dancer on tables, Shappi raises a glass to the woman England betrayed. 
Shappi Khorsandi has become a TV regular in recent years. has notched up numerous high profile television appearances including; Live At The Apollo (BBC ONE), Channel 4's Comedy Gala At The O2 (Channel 4, 2010 - 2016), Michael McIntyre's Comedy Roadshow (BBC ONE), The Graham Norton Show (BBC ONE), Have I Got News For You (BBC ONE) and her own Comedy Store Special for Comedy Central. She also had the honour of being nominated at the prestigious British Comedy Awards in the Best Female Comic category up against fellow nominees Jo Brand and Sarah Millican. She has also appeared as a panellist on BBC ONE's Question Time. 
Since 2015, Shappi has held the role of President of Humanists UK (previously the British Humanists Association). 
Click here for dates and ticket links.
Picture by Matt Crockett