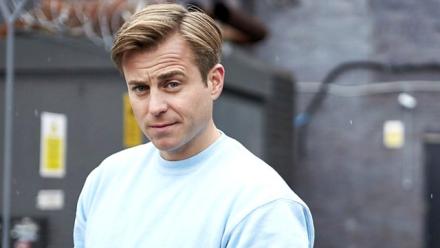 You know what? I still think it's an odd decision to reboot this classic, but this second episode isn't too bad at all. In The Cake Fletcher (Kevin Bishop) is reluctantly celebrating his birthday behind bars while a hard man wants a special cake, sorry, loaf, brought in for him from the outside on visiting day. You don't need to be Stephen Hawking to see that the two plots are going to interlink.
What is strange about this series is that if it is not setting itself up as a remake of the 1970s classic why are the personalities of the characters the same as the original? Guards Meekie (Mark Bonnar) and Braithwaite (Dominic Coleman) in particular seem to have duplicated the good warden/bad warden dynamic of original guards Mackay and Barrowclough. There is a twist this week though - soft touch Braithwaite is replaced on the wing by a female Meekie clone Officer Gemmell, played by Moyo Akande (I think there may be an in-joke here about Scottish footballers - Mackay, Gemmell...). Though judging by her behaviour she won't be returning.
This series might work better if it was sold as a prequel to Porridge, like that Only Fools And Horses prequel Rock and Chips. After all, quick-talking Kevin Bishop seems to be doing a Ronnie Barker impression so basically he comes across as an embryonic Fletcher more than a relation. Not very original but redeemed by some decent performances and quickfire lines by veteran writers Dick Clement and Ian Le Frenais. As mainstream comedy goes I'd rather have this than Mrs Brown's Boys any day (stick that on your posters, BBC). Maybe the audience isn't being conned after all. 
Porridge, Fridays, BBC1, 9.30pm. Or watch the whole series now on iPlayer. This episode airs on BBC1 on October 13 at 9.30pm, but this is billed as a Review as it is already available on iPlayer.
Postscript. Porridge can't be all bad, I just noticed it is executive produced by Tarquin Gotch, who used to work in the music business with two of my favourite 1980s acts, The Associates and Stephen Duffy.