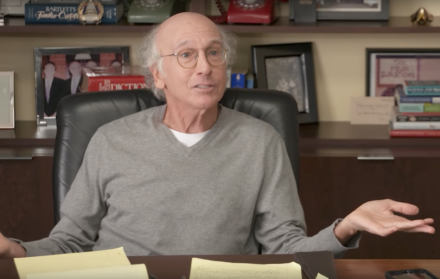 If you thought Larry David's sitcom version of Larry David might have mellowed in the years away from the screen think again. In the first episode of a new series of his brilliant cringecom David doesn't just provoke his friends and family, he provokes an entire religion, prompting a Rushdie-style fatwa.
That's after the usual awkward moments that bring this wonderful returning episode to life. His main problem is his new assistant, who keeps taking time off because she is constipated. David can't see that this is a reason for absence: "I got married constipated," he explains. He wants to get rid of her but doesn't know how. As his seemingly permanent lodger Leon Black (JB Smoove) explains, Larry has been the victim of a (very Seinfeldian-sounding) "foist" - he now has to foist her onto someone else… 
Oh sorry, did I also mention that he gets accused of transphobia after failing to hold a door open for his manager Jeff's butch lesbian barber? "I didn't get the after you vibe," apologises David to no avail. He tries to make amends by asking her to cut his hair, but only makes matters worse.
Add to this his presence at an anti-FGM charity meeting and you've got a setting for a great opener. "I saw wrong and I tried to right it," says David as he digs himself into an even deeper hole at one point. Welcome back Larry.
Mondays, 10pm, Sky Atlantic.