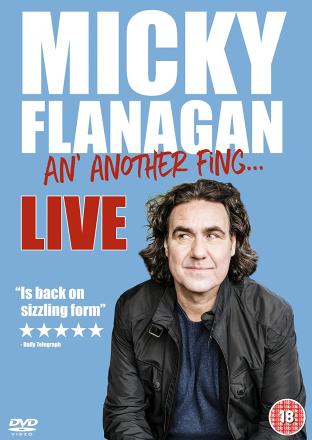 The live DVD of Micky Flanagan's latest show has gone to number one in the DVD charts - more than a month before it is released.
The An' Another Fing – Live DVD is not released until November 20 but is already beating Guardians Of The Galaxy and Pirates of The Caribbean. In the past Flanagan has been number one in the Stand Up comedy charts up against the likes of Michael McIntyre and Peter Kay, but his new DVD is rubbing shoulders with Johnny Depp and Chris Pratt.
The success of the DVD reflects the success of his latest tour. Through pre-sales alone, Micky became the biggest-selling Comedian of 2016, without even stepping onto the stage, and has maintained that mantra into 2017. Over a staggering 600,000 tickets have been sold making it Micky's biggest ever arena tour with 60 dates including 16 nights in London..
Micky has sold over 1.3 million DVD's to date, his last release in 2013 was by far the biggest-selling comedy DVD of the year which will again be the case in 2017 based on the phenomenal demand for the tour. 
Recorded live at the O2, watch Flanagan as he updates fans on his life whilst on his 'gap year'. Experience the master of comedy, as he talks about taking his dad on a Saga holiday, his relationship with his dog, marriage and much more.
Order the DVD here.
Flanagan is still touring the UK. Buy tickets here.