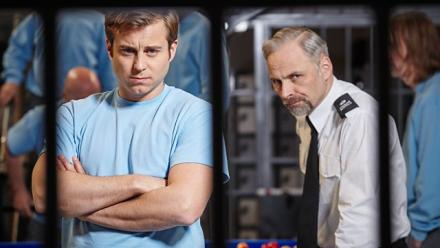 Over the weekend I posted a small preview of this new series on Facebook and very quickly got an unusually large number of comments. Let's put it this way. The only person who said something nice about the reboot of the regularly repeated classic prison sitcom was a mate of one of the cast.
The main criticism was not that this version with Kevin Bishop playing Nigel Fletcher, the grandson of Ronnie Barker's Fletch, was awful, it was more the one word question. Why? The BBC is surely on a hiding to nothing making this - it devalues a classic. It shows an abject lack of imagination. Nobody can fill Ronnie Barker's boots. You name it, Porridge 2.0 shows that the BBC is guilty of it.
But, of course, if the new series is a rip-roaring hit that'll silence the critics won't it? Well, yes. But I don't think it will be. Despite the scripts being written by the same skilful duo, Dick Clement and Ian La Frenais, there is clearly something missing. I guess that's Mr R Barker Esq. 
Kevin Bishop oscillates between impersonating Barker's Fletcher – same accent, grin and craft sideways glances – and trying to carve out his own identity, mixing cheek and charm. The reboot makes it clear that he is in for computer hacking. I presume the idea is that this is more of a victimless crime than burglary so Nigel can get some sympathy in this sensitive, PC era.
He is definitely being set up as the nice guy in the new series. In the first episode, The Go-Between, he is writing love letters for his fellow prisoners. In return for phone credit naturally. This gets complicated when one of the girlfriends takes a shine to him. As Officer Meekie (Mark Bonnar) points out, there's a bit of Cyrano De Bergerac going on here.
The comedy is not entirely painful to watch. Soppy Officer Braithwaite (Dominic Coleman), old lag Joe Lotterby (Dave Hill) and fellow inmate Aziz (Harman Singh) give this an ensemble feel and comedy circuit regular Colin Hoult plays lovelorn Barry, the nearest thing to a Godber/surrogate son in this first episode of six.
But anyone who saw the original is surely not going to be impressed. And anyone who doesn't know the original is unlikely to be won over either. I wonder if they will be repeating these episodes in three decades? And if they are will anyone understand the jokes about Theresa May and Uber? 
TV: Porridge, Fridays, BBC1, 9.30pm. Or watch the whole series here.