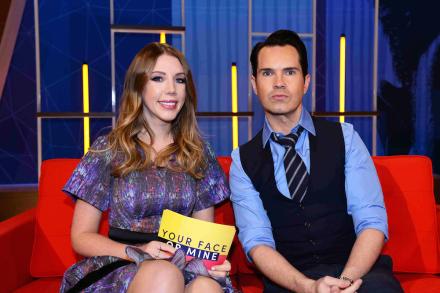 The second series of Your Face or Mine starts on Wednesday 4th October at 8pm on Comedy Central UK with Jimmy Carr and Katherine Ryan returning to challenge more loved-up couples for a chance to win thousands of pounds.
The brand new second series kicks off with a celebrity special, in which Stacey Solomon and Joe Swash test their relationship to the max in a bid to win money for their chosen charity. Not only does Joe have the embarrassing task of choosing between Stacey and his friend Nicola McClean, but he is also put in the awkward position of comparing Stacey to his sister and former EastEnders actress Shana Swash, while Stacey has to choose between Joe and former JLS star JB.
The gameshow features a series of revelation-filled rounds, challenging couples to compare their looks with other people's – and ultimately with each other's – in this relationship-testing game. Popular relationship-breaking rounds including 'Face The Nation' and 'It's Not Me It's You' will return leading viewers to find out just how far the couples are willing to test their relationship for money.
The new series follows the success of the first series of Your Face or Mine which was up a huge +99% vs. the slot average.
Your Face or Mine, Comedy Central UK on Wednesdays from 4th October at 8pm.