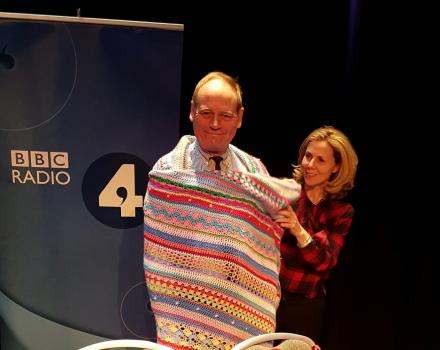 Now in its twelfth series, The Museum of Curiosity is a Rose d'Or award winning comedy panel show hosted by the Professor of Ignorance at Southampton Solent University, John Lloyd (QI, Blackadder, Spitting Image) with a different comedian joining him each series as the Museum's curator.
For this series Sally Phillips joins Lloyd as curator. In every episode, they are joined by three panellists who donate items to the Museum. Donations so far have included Helen of Troy, a bubble, the urge to press red buttons and the smell of coffee.
Sally Phillips said: "I couldn't be more thrilled to be the next in a long line of distinguished sidekicks to the wonderful Mr John Lloyd and on such a brilliant show.  Museum of Curiosity is as mind-blowing as it is hilarious and it has long been a career goal to work with John, the only non-Finn who has both won BAFTAs and written a dictionary of place-names in Finnish."
John Lloyd said: "Sally is one of my all-time favourite comedy performers and I'm looking forward, as usual, to being much less funny than the latest of a long line of distinguished and delightful curators".
The Museum of Curiosity first aired in 2008 and won the 2016 Rose D'Or for Best Talk Show. Recent curators have included Jo Brand, Noel Fielding, Sarah Millican and Romesh Ranganathan.
The series will begin recording at the BBC Radio Theatre from Friday 6th October for broadcast early 2018. 
To apply for free audience tickets visit http://www.bbc.co.uk/showsandtours/shows/