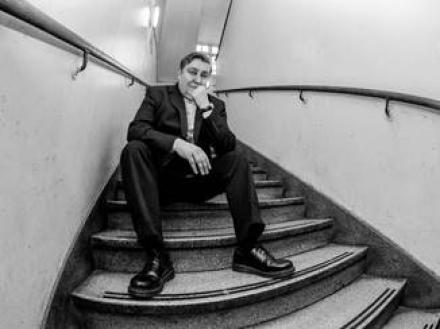 Comedian John Moloney returns to the comedy airwaves of BBC Radio 4 on Wednesday 23 August at 11pm with the second series of The John Moloney Show. The first episode of the new 4-part series, which will air weekly, is titled Edward Goes To The Vet. John's erstwhile cat Edward was first introduced to listeners when the award-winning comic made his Radio 4 debut in 2015 with the critically acclaimed The John Moloney Show, which was Pick of the Year on Radio 4. 
Edward isn't feeling well, he's leaning to the far-right - and it's not clear if it's a balancing act or political abnormality. There's only one thing for it, a trip to the vet. John and Edward come up against characters who don't understand their plight, nor that of those most in need. Edward may end up providing as many solutions as he receives. The John Moloney Show also features Karen Bartke and Julia Sutherland.
Starting out his comedy life as the 'angry young accordionist', John Moloney's career has gone from strength to strength winning plaudits from media and public alike for many years. He has twice won the award for Best Live Performer at the London Comedy Festival, as well as being nominated by The Comedy Store as 'Best Live Stand-Up' at The British Comedy Awards, and is acknowledged as one of the funniest comics on the circuit. In 2012 he launched the Balham Comedy Festival. John also won "Outstanding Contribution to UK Comedy" at The 2016 British Comedy Awards.