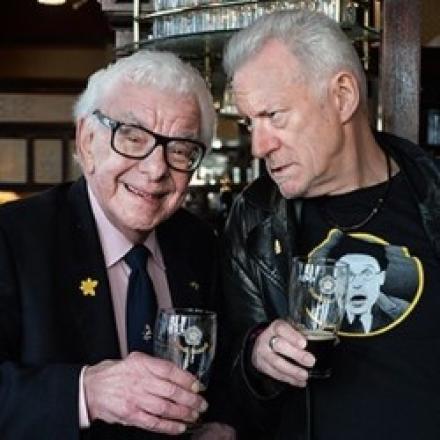 A recent article on the Observer looked at the veterans returning to the Edinburgh Fringe this year. The piece mentioned the likes of Alexei Sayle and Craig Ferguson and, erm, Sue "hardly ancient" Perkins, but faild to give a namecheck to Tony De Meur and Barry Cryer, who must surely be the oldest double act heading up to Scotland this August. Cryer is a true legend having written for the greats as well as being an eminent raconteur in his own right. And as for Tony De Meur, alias, Ronnie Golden, he isn't just a comedy legend, he is also a rock legend. Back in the pre-alt-com days he was a member of seminal indie band The Fabulous Poodles. If you haven't encountered them before you can play catch-up in the autumn when they are reforming to tie in with the release of a boxed set of their back catalogue. In the meantime though, catch Golden and Cryer at the Fringe where they are doing a two-night stand with their show, Just The Two at Six. And have a read of this first for some background. 

 

Barry Cryer and Ronnie Golden: Just the Two at Six are at the Gilded Balloon on August 15 & 16. Tickets here.

 

1. What is the last thing you do before you go onstage (apart from check your flies and/or check your knickers aren't sticking out of your skirt and check for spinach between your teeth)?

 
"The tip of the tongue, the teeth and the lips. The tip of the tongue, the teeth and the lips..."

Overconfidence in under-talented people.

3. What is the most dangerous thing you have ever done?

 
Possibly performing my song 'Shoe Bomb" solo at the London Palladium on the first anniversary of 9/11.

4. What is the most stupid thing you have ever done?

 
See above

5. What has surprised you the most during your career in comedy?

 
That a genuine 'sense' of humour is often lacking within the 'science' of comedy.
Interview
continues here.