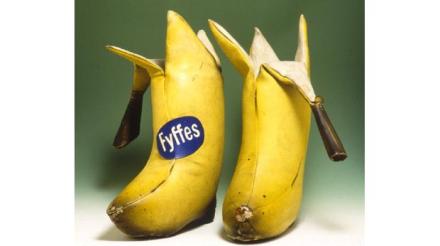 The BBC has upheld a complaint after Jeremy Paxman made an error during a University Challenge question.
In the Celebrity edition which was broadcast last December Paxman attributed Billy Connolly's banana boots to artist John Byrne rather than actual creator Edmund Smith.
The complaint was made by Edmund Smith's daughter. Smith made the size nine bananas for the iconic comedian in 1975.
The question asked was "Born in Paisley in 1940, which artist and playwright designed Billy Connolly's banana boots and wrote the 'Slab Boys trilogy' for the theatre and the series Tutti Frutti for television?" Team captain Paul Ross replied: "Nicola Sturgeon" and Paxman replied: "Funny answer, but not right. John Byrne". Everything else about the question applies to Byrne, who recently painted a portrait of Connolly, except for the banana boots reference.
According to a report, the BBC said it had drawn the "oversight" to the attention of the programme producers. 
Picture courtesy of Glasgow City Council/The People's Palace in Glasgow, where the boots are currently on display.