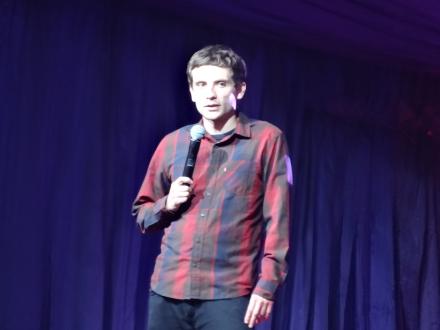 Is Daniel Simonsen the world's least prolific stand-up comedian? While other comics come up with a new show every year Simonsen has been relatively quiet since he won the Best Newcomer Award at the Edinburgh Fringe in 2012. He appeared in Vic and Bob's sitcom House of Fools, but he doesn't seem to have been that busy outside the live circuit.
While it was great to see this distinctive comedian back onstage again there were chunks in his set that I think may even pre-date his EdinburghComedyy Award winning show. His story about handing out flyers for a dentist while dressed as a tooth, for instance, has been around for a while. Similarly his send-up of mainstream observational comedians and their "Anyone been to the bank?" style has been done by him a few times over the years.
But having said that there is something about Simonsen onstage that is absolutely compelling. He is deliciously deadpan and I presume he knows it as he says, without noticeable irony, that he picked up this "low-energy" personality growing up in Norway. It is a stony delivery that could come across as bland from someone else yet combined with his expressionless yet expressive face and hunched shoulders works brilliantly. 
There is clearly something deeper going on under the surface. I remember when he won his Edinburgh prize he thanked his therapist. Maybe he has self-esteem/confidence issues. At one point he remarked: "I can't stand my own material...I suck". It is as if he is doing a thing he doesn't enjoy as a form of therapy, maybe to get out of his comfort zone. He might feel awkward about what he does though, but trust me, whether the material is old or new the unique Daniel Simonsen is worth seeing.
Daniel Simonsen is doing two different shows at the Camden Fringe this August, a scripted one and an improvised one. Details here.
Read more Latitude 2017 reviews here.