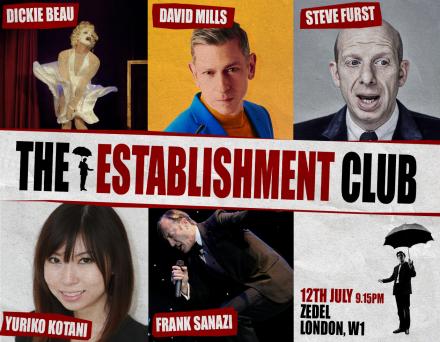 In the 1960s the Establishment Club was hosted by Peter Cook in Soho and was a hotbed of the satire boom. It has recently returned, with the blessing of Cook's late wife Lin, and has been putting on memorable, sometimes riotous, gigs around London. It's latest home is the swish Brasserie Zedel, a stone's throw from Piccadilly Circus.
The next line-up on July 12 might not feature the likes of Cook and Moore, Lenny Bruce and Barry Humphries, but it certainly boasts an interesting cross section of acts drawn from the comedy and variety circuit. There is host Steve Furst, aka Lenny Beige and London-based Japanese stand-up Yuriko Katoni, with her distinctive take on us crazy Brits. Then there is musical maestro Rainer Hersch, waspish, well-dressed David Mills and star of the alt-cabaret scene Dickie Beau. Oh, and don't forget Frank Sanazi, offering his musical rewrites of show tunes. Or should that be re-Reichs? 
Tickets and more details here.