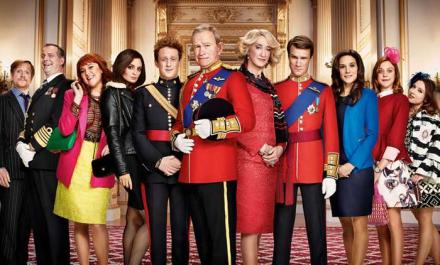 The Windsors is such an obvious idea it is weird to think that it has never been done before. Basically the royals are presented as a dysfunctional, soapy family. Charles is a kilt-wearing hippy, William is a thick drip, Kate is an upwardly mobile gypsy, Pippa is a superbitch. Etc, etc.
But if the characters are corny writers Bert Tyler-Moore & George Jeffrie do ensure that there are plenty of gags in the mix. And there is also a new addition to shake things up in this second series. Kathryn Drysdale plays Harry's brash crop-topped girlfriend Meghan Markle, who can't stop mentioning that she was in the TV show Suits.  
In the first episode the royals are called upon by Theresa May (Gillian Bevan) to suck up to a Chinese delegation to secure a trade deal. I don't know when this was shot but the makers would have been scuppered if it was filmed and then the Tories were out of government. As it is there's a line that still sticks out badly, when it is said of May, comparing her to Prince Chaz: "you're just jealous because she's got real power." Could've fooled me.
Anyway, the cast certainly get stuck into their panto-ish roles. Harry Enfield is on good form as Charles, Haydn Gwynne is the scheming Camilla, Vicki Pepperdine is unrecognisable as a villainous Princess Anne, Hugh Skinner (William) and Richard Goulding (Harry) compete to see who can be the most thick. And Morgana Robinson plays Pippa Middleton as an envious wicked witch sister of Kate (Louise Ford).  
My favourites, however, may just be freeloading juicer-flogging Fergie (Katy Wix) and her hapless daughters Beatrice and Eugenie, played by Ellie White and Celeste Dring. Although they were so convincing I did wonder for a moment if they were played by the real Beatrice and Eugenie.
The Windsors, Series Two, Channel 4, Wednesdays from July 5, 10pm.