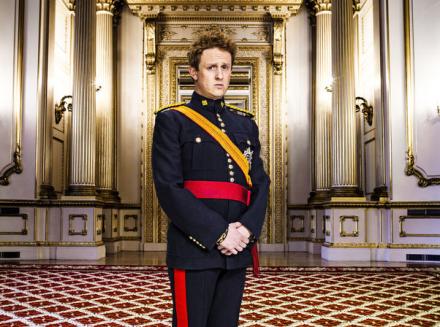 The broadcast details have been revealed for the new series of The Windsors.
The second series of the soapy royal comedy will start on Wednesday, July 5 on Channel 4 at 10pm.
Here is an interview with Richard Goulding, who plays Prince Harry.
The Windsors is back for series two. What's in store for Prince Harry in this series?
Well, Megan Markle features, that's a big storyline, and there's an inevitable rivalry with Pippa. Harry's rather caught in the middle of that, which gives him a bit of a dilemma. Spinning off from that there's a rivalry with Johnny, Pippa's fiancé in the series. That ends in a wonderfully dramatic denouement, it goes somewhere pretty unexpected. And also, in a forlorn attempt to do the right thing, Harry gets involved in some really dodgy business dealings with Prince Andrew, which involves some dressing up and some pretty weird shenanigans with Azerbaijani businessmen. 
Harry generally does try to do the right thing in the show. It's quite a sympathetic portrayal of him, isn't it?
Yeah, he's got a big, soft, childish heart, but he's not always in tune with it. It takes him a long time to work out what's really going on. He's a bit dim, but in a loving way.
Meghan Markle is played by Kathryn Drysdale. How did you enjoy working with her?
She was brilliant. I imagine it's quite daunting coming into a series where you've got a large and quite tight company that has worked together for a year by that stage, and all know each other. But she just came in and nailed it from day one. She was totally professional, and good fun, and brilliant to work with. She was great.
You seem to have cornered the market in Prince Harry. Are there any similarities between the Harry of The Windsors and the one in King Charles III?
Apart from the fact that they both have ginger hair, and they're both in love with 'wrong' person, in completely different ways, there's not much similarity. I think The Windsors role came out of Charles III on the stage – but it's quite a surprise to me that this has happened. The two pieces of work are so different, apart from the name, I don't even really think of them as the same character. The writing and the nature of the shows are so completely different. Neither performance is intended in any way to be an impression of Prince Harry. The Windsors takes the royals as a starting point and goes on a completely ridiculous flight of fancy, so it is Prince Harry, but completely removed from any sense of reality or truth. Charles III was written in Shakespearean form, and was a very heightened version of a possible future, so removed from anything real. 
If people come up to you to talk about playing Prince Harry, does it get confusing about which show they're talking about?
I have had one or two conversations in the street like that, actually. I never get recognised for anything, but as soon as I dye my hair ginger, everyone goes "Oh, you play Prince Harry." I have had to prompt them a little bit to work out which show they want to talk about. But no-one has come up to me and said "You play Prince Harry in both those things." 
You've also played Tomothy in Fresh Meat. What do you get most recognised for?
I think anything to do with the royals just adds an extra few levels of interest and intrigue. Playing Tomothy was great fun, and I loved being in Fresh Meat – I really enjoyed the show anyway, so I was thrilled to get a part in it, and playing Jack Whitehall's brother was cool. That was good fun, but playing a royal really piques people's interest.

Have you ever had any indication of whether Prince Harry is aware of the shows you've done?
I've had absolutely no indication about that. I'm sure the Palace in general is aware of these things. But who knows whether they take any interest in it, or give two figs about what's going on. I secretly like to think that Harry and Wills might watch it together with a few beers. They probably haven't got time, to be honest. I think some of Harry's mates came to see Charles III in the West End. We didn't have any threats of violence from them, which was a good sign.
Have you done much research of Harry, for any of your roles?
I was asked a similar question on Charles III a few years ago, and I stupidly said "No, I've done absolutely no work." That was completely misinterpreted! But neither show exactly demanded it, I wasn't working towards doing an impersonation. But what I did realise – and I think it's true of any show you do – is that the world of the show and the themes of the show, you suddenly become aware of those things around you. So if you're doing a play about babies, suddenly you realise babies are everywhere. So just by working on something that involves Prince Harry, I suddenly became so much more aware of him in the media, and in a semi-deliberate way looked out for him. But I didn't do any specifically active or specific research into him. I did listen to his voice making speeches, but not in a rampant way, just to know what he sounded like. My main thing was to play the Prince Harry that was in the script, rather than to worry about who the real Prince Harry is. 

You talk about how much he's in the public eye. Would you ever want to swap places with him?
No! Definitely not! I've thought about that a lot, because Charles III is particularly about that thing of being trapped by your birth. So yes, you're born into huge privilege and great comforts and wealth and so on, but goodness me, the scrutiny. Every move you make is seen and known, and you live on the one hand a very public life, and on the other an incredibly secret life, a protected life. I can't imagine the lack of freedom that must result in. I'd like to have a bigger house and maybe some nicer clothes, but I wouldn't want his life. Although I think he and Wills have done an amazing job in the 20 years since their mother passed away. Especially recently, with Harry coming out and talking about his mental health. I think it's an incredibly brave and honest and generous thing to do. 
Do you see The Windsors as being an affectionate spoof?
I do, actually. I did an interview with Hayden Gwynne, who plays Camilla, and found myself saying "Every character is this lovely, sympathetic portrayal," and then I suddenly realised Camilla is the arch villain of the whole thing, and I was talking out of my arse. But in the end I do think it's affectionate. I'm not sure George and Bert, the writers, are royalists in any way, and probably nor are many of the cast – I don't know – but I think that in the end, the characters are all flawed and funny and lovable in some way. And at the end of both series, there's a tableau of the royal family rather triumphantly and heroically winning against the politicians or against disaster, or preventing the world from ending. There's something very human about them all. It couldn't just be a really nasty lampoon, I think that would be really unfair.

Is it good fun to film?
Yeah, it really is, it's amazing. We had a screening for a couple of episodes of the second series, and they had some really fun outtakes that they'd kept, and you could just see everyone having a great time. It doesn't really feel like work. I really look forward to going on set. The writing is so funny, and the other cast are so brilliant, and I feel like with the second series we really know what we're doing now.
Who's the worst corpser in the cast?
I think I am. I'm terrible. There are so many scenes, especially with Harry Enfield and Morgana, who I do a lot with, that really make me laugh. It's so embarrassing. There are a lot of times when I can feel the room getting quite tense because I can't stop giggling. I could be wrong, there might be someone worse than me, but I doubt it.
What's been your favourite scene or storyline involving Harry?
Actually, my favourite storyline is coming up in series two. What can I say about it? It involves Prince Andrew and it involves Pretty Woman. I'm not going to say any more than that.
Interview supplied by C4.