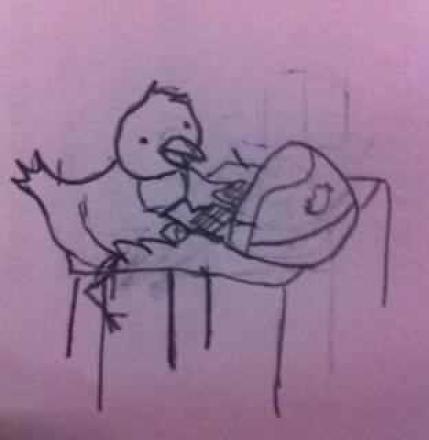 If Host The Week has been axed by Channel 4 after one episode, as has been reported, it joins a very select band of television comedies that were pulled earlier than planned. 
The most famous example that springs to mind is Heil Honey I'm Home. As the title suggests, this was a sitcom based around the domestic life of Adolf Hitler, which sent up classic American comedies such as I Love Lucy. The first episode was broadcast in 1990 on satellite channel BSB, but it received negative reviews and was described by television historian Marian Calabro as "perhaps the world's most tasteless situation comedy". Further episodes were filmed but were never broadcast.
The other example of an idea not panning out as planned was Peter Cook's chat show Where Do I Sit? Cook was undoubtedly a comic genius but not interested enough in his guests to make this BBC series a hit when it started in 1971. Maybe nerves - or possible alcohol – contributed to some of the more awkward moments. When Kirk Douglas walked on, Cook meant to say, "How are you?" but it came out as "Who are you?". The BBC was flooded with complaints about the show and cancelled the 12-part run after the third week.
And thank you to Peep Show writer Sam Bain who reminded me of Days Like These, a feeble attempt at remaking American nostalgia-fest That '70s Show for ITV, relocating it to Luton. Only 10 out of 13 episodes were broadcast in 1999. Two of the writers on the show were, erm, Sam Bain and his Peep Show partner Jesse Armstrong.
And thanks to Robin Ince who reminded me that only two out of seven episodes of classroom comedy Hardwicke House were broadcast in 1987 before the series was pulled due to the bad press it was receiving. I shall simply quote the description on wikipedia and you can make your own minds up about it: "The series is set in the large comprehensive school of the title, the staff of which are as dysfunctional as the pupils. One teacher is a multiple murderer, while the deputy headmaster lusts after male pupils. One teacher, Moose Magnusson, is on an extended exchange placement, because his own school in Iceland refuses to have him back."
Oh, and there was also E4's panel show Dirty Digest, pulled after three episodes in 2011, which focused on the world of celebrity and was hosted by Michelle de Swarte. Hat tip to Mark Olver for reminding me of that one.
If it is any consolation to Channel 4, the BBC had to find a replacement for Peter Cook quickly and gave the relatively unknown Michael Parkinson a chat show, which didn't do too badly at all. If Channel 4 has a tenth of Parkinson's success with whatever replaces Host The Week they will breathe an audible sigh of relief.