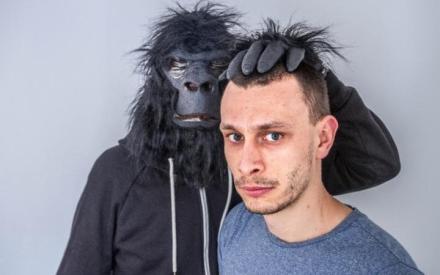 Edinburgh Comedy Award winner Richard Gadd's latest show Monkey See, Monkey Do has been nominated for the Best Solo Festival/Tour Show award in the fourth annual Scottish Comedy Awards.
The full list of nominations has just been announced. The awards celebrate live and broadcast Scottish comedy produced or performed in 2016. Voters have to work in the Scottish comedy Industry, either as performers, writers, producers, promoters, venue staff, TV & Radio production staff or similar. Comedy fans or audience members are not eligible.
The results will be announced at an event at 7pm on Tuesday 1 August at Le Monde, George St, Edinburgh.
Here is a full list of the nominees. To vote click here.
Best Improv / Variety / Sketch
Best Solo Festival / Tour Show
Chris Forbes – Tall Needy Mutant
Fern Brady – Male Comedienne
Richard Gadd – Monkey See Monkey Do
Scott Agnew – I've Snapped My Banjo String, Let's Just Talk
Scott Gibson – Life After Death
Susie McCabe – There is More to Life Than Happiness
Frankie Boyle's American Autopsy
Ashley Storrie's Twitter / Facebook
BBC ALBA Wild Swimming with Calum Maclean
Gregor Sharp & Simon Carlyle
Vladimir McTavish Birthday Roast
Comedy Creche @ Dram!, Glasgow
Kilted Kangaroo, Stirling