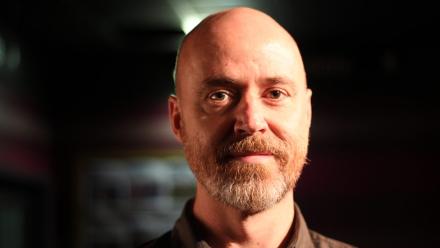 If the idea of The Old Comedian of the Year final conjures up images of Zimmer frames and senior moments nothing could be further from the truth. You only need to be 35 to enter, so I'll be eligible myself in a few years. At 83 compere Lynn Ruth Miller was easily the oldest person on the stage and she was as sharp as a hat pin, keeping the crowd onside with her briskly delivered reflections on geriatric sex or the lack of it and much more.
First up was President Obonjo, a fake African President who would probably make a better world leader than some of the real Presidents currently in power. He certainly had a degree of authority, not bothering to pick up the microphone and simply bellowing at the audience. There was a nice self-deprecating streak too, as he explained how he was planning world domination from his home in St Albans, rail timetables permitting. A few topical references notched up some extra laughs, but this General was not able to win tonight's election. 
Fred Ferenczi was a total change of pace. He was the only act on the night who pandered to the idea of OAP dottiness but in his Gyles Brandreth jumper and distracted manner he did it well, coming over as a cross between Jeremy Hardy and a slow burn Count Arthur Strong. There was not a lot of material here, but the few gags he delivered had a distinctive oddball appeal. 
Paul Warwicker looked more conventional but had an act with a twist. He started out by explaining that he was a pet rescue investigator and proceeded to trot out a variety of painful animal-based puns ("Slum duck Millionaire". anyone?). The audience laughed, but in much the same way that they might laugh at the joke in a Christmas cracker. When the animal idea ran its course he continues with more wordplay. It was certainly enjoyable but did not really feel quite like a fully thought-out routine. 
White-haired 65-year-old Jac Bevan could probably make a decent living as a Jeremy Corbyn lookalike if Labour pulls of a surprise victory. And for a while it looked as if Bevan might pull off a surprise victory tonight and was definitely the strongest act so far. His material was more age specific than some of the other performers, with quips about male incontinence and funeral costs and there was a particularly good story about telling untruths on dating websites, that was effective even if you could almost see the punchline coming. Of the first four acts Bevan was the one to beat.
Dave Gibson was slightly wrongfooted by Lynn Ruth Miller still being onstage when he walked on, but this haphazard start actually gave his act some extra energy as he explained that he was going to tear up his script and daringly improvise. It was not clear how freeform what he did next was - part of it was the old trick of asking the audience a question and then responding with a preplanned answer to another question. Maybe he should go into politics. He came unstuck, however, with an audience member who seemed to like the sound of her own voice too much. On the plus side Gibson barely looked old enough to be eligible, so there is plenty of time for him to win in the future. Maybe if he enters every year he'll eventually come up trumps.
Last act of the first half was the only woman on the bill. Donna Scott had a deadpan style which showed promise but her combination of poetry and jokes was decidedly uneven. For every good gag - there was a nice "I'm like a kebab" analogy – there was a gag that struggled over the finishing line. In fact I had to check with my esteemed fellow judge, Chortle's Steve Bennett, about one pay-off that was so painfully stretched I wondered if I had misundertood it. I hadn't.
Review continues here.