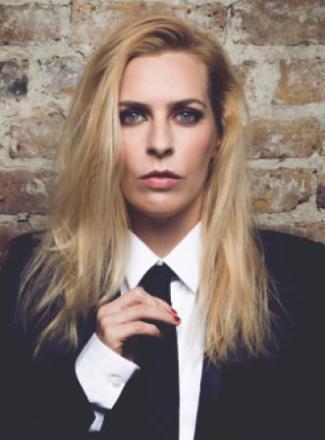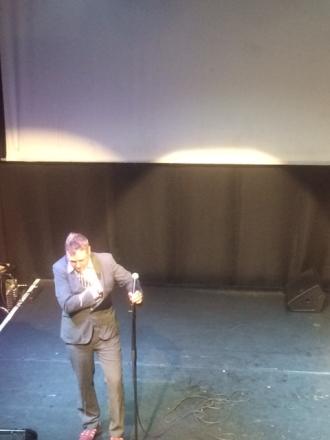 If there is a crisis on the live circuit as I've heard, nobody has told Knock2bag. Their various clubs around the capital have been doing the business for ten years and last night's show in their Shoreditch outpost was absolutely rammed. And I'm not just talking about the audience. With ten acts on the bill (maybe even more, I lost count) the dressing room was probably standing room only too.
After larger-than-life lycra-clad compere Jayde Adams and her special guest dancers the deadpan Figs In Wigs had whipped the audience into a frenzy Sara Pascoe (pictured) was first up with a snatch of new material that will presumably end up in her next Edinburgh show, Lads Lads Lads.
In which case her upcoming show sounds like an absolute must-see. Pascoe explained how having become single in December she has been having some, shall we shall, interesting experiences on the dating scene. She also has an intriguing post-feminist plan to support the women on C4's First Dates. But no spoilers, you'll have to see her show to find out what it is. 
I've tipped Tom Ward for a while now and he seems to be delivering on that promise. After a slightly awkward opening anyway. He is still doing his warm-up gag about his hairstyle being a wig, which I don't think is quite so effective now that he has trimmed and tamed what used to be an elaborate Lego man bowl cut. But he soon got everyone onside, mixing quirky storytelling with sound effects, singing the praises of Prince's sexy grunting before offering his own idiosyncratic tribute to Cher.
Richard Gadd didn't need to win anyone over. As the reigning Edinburgh Comedy Award winner he was probably the perfect act for this left-field club. His short set lifted some of the more accessible elements of his extended show – his punchline-after-punchline one-liner routine, for example – and lobbed in some film of him bonding with his dad in what is, shall we say, a very unlikely way. Less theatrical than his prize-winning set, but just as funny. 
The first part of the show would have probably made a fantastic gig in its own right, but there was lots more to come. Some of it on the decidedly weird side. Sketch duo Totally Tom exuded a certain posh-yet-sleazy charm as Tom Stourton dusted off his jaded stripper routine. Self-styled ex-scientist Mark Silcox delivered his trademark deadpan material where he is so straight-faced it is hard to know if he realises how funny he actually is.
Review continues here.