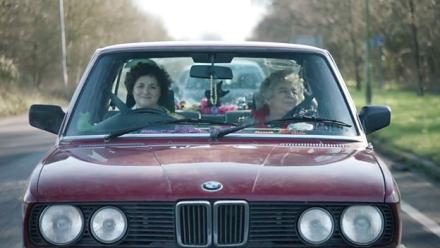 Miriam Margolyes has pretty much cornered the market in dotty old ladies so she is certainly doing what she does best in this new four-parter written by Frog Stone, who plays her daughter Fran. 
Margolyes is Mim, who wants to mark her seventieth birthday by ticking off her bucket list along with Fran, who is less keen on cuddling dolphins off the Great Barrier Reef. The scene is quickly set then for an odd couple road trip. Thelma and Louise this ain't. Though it does have echoes of the recent R4 series Guilt Trip.
This being a BBC4 budget the first episode doesn't get any further than a provincial motel and a damp crazy golf course – and they don't even get to finish the hole with a windmill on it because they are arguing. Mim wants to know why thirtysomething Fran isn't married, Fran is exasperated by her eccentric mum.
Bucket is not just about laughs though. There is pathos here too. About missed opportunities and life passing you by. The seize-the-day motif is a little overplayed at times, but for the viewer Margolyes and Stone make excellent travelling companions. They are well cast too. I expect social media will be buzzing with people wondering if they are real mother and daughter (answer - I don''t think so but they do look like they could be). 
The result is a comedy about going on a journey, both physical and metaphorical. For anyone with elderly parents or grandparents Mim will be all too recognisable, from the quirky food she wraps up and brings with her to the inappropriate remarks in public.
I was worried this was going to be soppy, sentimental and full of growing old disgracefully cliches. And while there is certainly plenty of that, there is much more edge and depth to it than expected. Never mind seizing the day, just seize the TV remote and tune in on Thursdays at 10pm.
Thursdays from April 13, 10pm, BBC4.