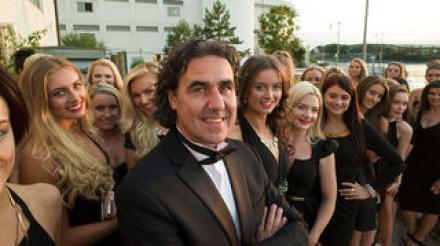 A date has been revealed for Micky Flanagan's new series on Sky 1. 
Micky Flanagan Thinking Aloud will start at 9pm on April 17 and will also be available on online streaming service NOW TV. In the six-part series Micky lets his mind wander through the past and present to explore the big themes in life. Is there really such a thing as a mid-life crisis? Why do we Brits like to think of ourselves as plucky underdogs? Can you offend a German, and does a leather waistcoat have any place in modern society?
This is Flanagan's second documentary series for Sky 1 and follows on from the success of Micky Flanagan's Detour de France in 2014,  which saw him undertake the ultimate test of man's endurance, the French, as he pretended to cycle his way round France.
Flanagan said: "Two years ago I was asked by 
7 Wonder
 and Sky to get back on my bike and make a TV show, I told them to f**k off and bought a dog. But then I got thinking… about serious stuff… the kind of stuff Adam Curtis or Huw Edwards would make a show about – and that's what this series was meant to be, a series that would make people say 'Aristotle, Sophocles… Flanagan'. Somewhere along the way however I ended up getting spanked by a dominatrix in Slough and dancing with gay disco terrorists in LA. So I guess this is my way of saying if you want a comprehensive, fair or balanced point of view, if you're looking for the truth - watch Jeremy Kyle - but if you want to see a middle aged man dressed in short shorts plastering a wall with Eddie The Eagle – you know where to come." 
Thinking Aloud starts at 9pm on Sky 1 on April 17.