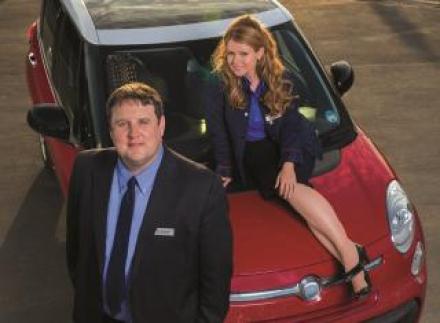 The transmission details of the new series of Peter Kay's award-winning sitcom Car Share have been announced.
The first episode will air on BBC1 on Tuesday 11th April 2017 at 9pm. The rest of the series will be available on BBC iPlayer as a box set straight after episode one airs. The series will continue on BBC One on Tuesdays at 9pm. The series once again stars Kay and Sian Gibson as promotions assistant Kayleigh Kitson.
Here is an episode guide to the new series:
Episode 1
After moving in with her sister, Kayleigh is now traveling on her own to work but will she manage to resist temptation or call her old Car Share buddy John?
Episode 2
John and Kayleigh are full of high spirits as they head off on their annual works do.
Episode 3
Kayleigh has had enough of work and fancies a day off but John isn't having any of it. Or is he?
Episode 4
John enlists the help of his Nan to reluctantly wait in for a parcel delivery.
Read an interview with Peter Kay and Sian Gibson here.