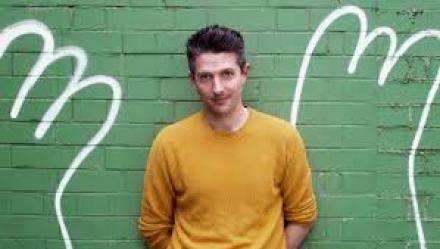 Stuart Goldsmith has been awarded the prize for Best New Show, The Elvis Dead won Best Show and the late Victoria Wood was given a Legend of Comedy Award at the Leicester Comedy Festival's annual award ceremony hosted by Mrs Barbara Nice.
The Legend of Comedy award is voted for annually by members of the public. Past legends have included Barry Cryer, Rik Mayall, Ken Dodd and Sir Norman Wisdom.
Victoria's sister Rosalind Watson, who attended the ceremony to accept the award, said "I am over the moon and honoured to be able to accept this award on behalf of my sister Victoria Wood. It would have meant a lot to her to have been voted a 'legend' especially by a people's vote.  It's great that this ceremony is taking place here in Leicester, because we are just around the corner from the old Phoenix Theatre which is where Vic performed very early in her career. It's now called the Sue Townsend Theatre, but it's where Vic got a lucky break in 1976 as a relief pianist in 'Gunslinger', a musical set in the Wild West, starring her husband to be Geoffrey Durham and Alan Rickman.
She was a legend and we're so fortunate to have her fantastic body of work. And so much of it is available on the internet. It's as if her work has had a new lease of life on Twitter and YouTube. We can see Victoria's sketches and songs just by clicking in a screen.  As we know she went way too soon but she has left a legacy that should make the world continue laughing for years to come."
Festival director, Geoff Rowe said "I am thrilled that Victoria Wood, one of the most significant British comedians of the past half century, was recognised for her outstanding contribution to comedy tonight. She is a true legend of comedy, whose work will continue to inspire and entertain for years to come. Our annual awards also acknowledge the acts, venues, promoters and other organisations whose hard work has helped make this year the most successful of the festival's 24 year history."
Full list of winners and nominees is as follows:
Legend of Comedy
Winner: Victoria Wood
Nominees: Ade Edmondson; Billy Connolly; Dawn French; Jack Dee.
Best show
Winner: The Elvis Dead
Nominees: Lucy Thompson: Shake It Off; Olaf Falafel and the Cheese of Truth ; Sean Morley: Earned Helplessness; The Elvis Dead.
Best New Show
Winner: Stuart Goldsmith: All The Time In The World
Nominees: Maddy Anholt: work in progress; Paul Currie: Catzinmymouth; Paul F Taylor: Look A Distraction; Sarah Johnson: Reminisce; Stuart Goldsmith: All The Time In The World.
Best Musical/Improv Show
Winner: The Elvis Dead
Nominees: Russell Hicks: From the Heart; Scriptless in Seattle; The Elvis Dead; The Harry & Chris Show.
Best Kids Show
Winner: Sooty & co
Nominees: Jarred Christmas and The Hobbit ; Mini Fridge - Kid's Court; Sooty & Co.
Best Venue (under 200 capacity)
Winner: The Black Horse
Nominees: Brewdog; Firebug; The Black Horse; The Cookie; The Exchange.
Best Venue (over 200 capacity)
Winner: The Little Theatre
Nominees: Curve; De Montfort Hall; The Cookie @02 Academy; The Little Theatre; The Y.
Liberty Award
Winner: Naked Comedy
Nominees: Make 'Em Laugh Exhibition/George Williams; Naked Comedy; Roar With Laughter Fringe; The Thermos Museum; @deadmonarchs exhibition.
Best Promoter
Winner: Captain Coliño's Comedy Playhouse
Nominees: Captain Coliño's Comedy Playhouse; Daniel Nicholas & Attenborough Arts; Grays; Jokes on Us; The Cookie.
Contribution to Leicester Comedy Festival 2017
Winner: Crosscut Media
Nominees: Crosscut Media; Demon FM; LCB Depot; Takeover Radio.
Community Award
Winner: Focus Charity
Nominees: Centre for Integrated Living; Elaine Pantling; Square Mile Smiles; The Real Junk Food Project; Focus charity.
Best poster
Winner: Michael Brunstrom: Parsley
Nominees: Alasdair Beckett-King; Katherine Ferns; Kyle D Evans; Make 'em Laugh; Michael Brunstrom; Rob Kemp.
Lifetime contribution to Leicester Comedy Festival
Louise Grainger & Equity
How shows are judged:
All shows listed in the office festival guide are checked for eligibility. Every eligible show is seen by members of the awards panel in combination with members of the admin team and carefully selected scouts. The Awards panel is made up of previous panelists, people working in comedy and comedy fans from all over the country. 
Leicester Comedy Festival 2018 will take place from the 7-25 February.