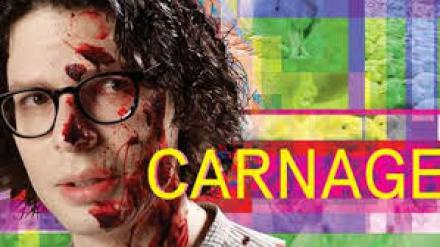 After a quiet period from Simon Amstell the thoughtful, angsty comedian is gearing up for a higher profile this year. A UK tour has recently been announced but before then he makes his directorial debut with Carnage – Swallowing The Past, an intriguing, provocative film being released by BBC iPlayer*.
Amstell doesn't appear but he does narrate it. It is 2067 and nobody eats meat any more. It is viewed as something as socially abhorrent as slavery. In fact older people who once might have happily drunk a glass of milk are ashamed and have to go to support groups to deal with their issues.
This feels very much like Black Mirror territory, with Amstell, who also wrote Carnage, examining a future where attitudes have done a radical U-turn. The format here is probably best described as mockumentary, with our narrator exploring how we got to the stage where the last milk chocolate Easter egg has become a historical artefact.
But forget The Office or Spinal Tap, the stoney-faced tone here is much closer to the cerebral work of Adam Curtis, with unexpected archive clips cropping up to illuminate various points. The clips are funny, fascinating and often rarely seen - in fact one wonders at times whether they are genuine or set-ups. Is that really somebody called Bland explaining that he is a vegan in the blandest of terms? Is that a genuine performance artist slipping over while dancing on butter? (I recognised avant-garde artist Marina Abramovic elsewhere in a familiar clip but the commentary had been changed). The clip of old school chef Fanny Cradock doing a gig at the Royal Albert Hall seems genuine and suggests that celebrity cooks didn't start with Jamie Oliver (who also appears here). Having done some googling I think this film may have been some help.
Numerous other famous faces also crop up. Martin Freeman and Eileen Atkins appear in a clip from a fictional film, Dorothy Is Still Dorothy, which is very much a post-veganism send-up of Alzheimers movie Still Alice. And news presenters do their bit to add authenticity to footage - Kirsty Wark pitches in, while Vanessa Feltz is seen discussing an outbreak of swine flu that has killed umpteen Londoners.
It is incidents like this fictional swine flu epidemic that, the commentary says, helped to push society towards veganism. Never mind morality, eating animals is clearly bad for our health. Gradually, says Amstell, people were turned off meat by incidents such as this and also by the work of militant campaigners such as the fictional Troye King Jones, who by 2067 is dead but revered by vegans everywhere.
Carnage is definitely an interesting film and Amstell is clearly interested in the subject - he has touched on it onstage. It is an odd hybrid though. I suggested mockumentary earlier but I also said that that isn't quite right. One could call it an extended spoof news report, but then one might hope for it to be as funny as Brass Eye. It isn't, but that's partly because Amstell seems to be going for a much more serious mood than Chris Morris. This is definitely satire but it is so subtle that if you happened to catch this by accident – unlikely, admittedly as it's only available online at the moment – you could easily think it was genuine. Until, at least, you hear about the time a duck co-presented Countryfile.
Despite echoes of other auteurs Amstell certainly has a distinctive voice. If you like his previous stand-up work or his underrated sitcom Grandma's House (look out for GH star Sam Spiro in this dressed as a cow) you will probably like this. If you only know Amstell from Popworld or Never Mind The Buzzcocks, however, you may be a little confused and run out of the house in search of the nearest Burger King.
Available on iPlayer here after 9pm, Sunday, March 19.
*Running time is 70 minutes.