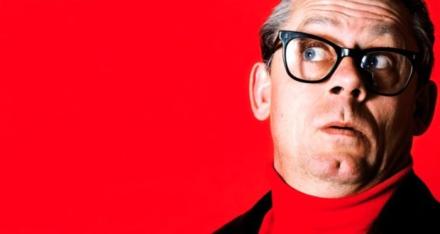 Never let it be said that John Shuttleworth does not respond to global events. His latest show, My Last Will And Tasty Mint, is his response to the catalogue of music business deaths in the last year. In fact, prepare yourselves for a nightmare scenario, Shuttleworth has decided that the music business is now too risky for him and he has decided to quit…
But not before this tour, of course, which boasts plenty of new songs as well as the obligatory greatest hits. Shuttleworth's followers are a loyal bunch and they were never going to let him leave the venue without having the chance to sing along to Two Margarines On The Go or punch the air to Pigeons In Flight.
The first half of his first of four nights in London, however, consisted of new or less familiar material. The mournfully catchy title track was all about regret, from not getting the autograph of Mud's lead singer Les Gray when he spotted him in a Happy Eater to not landing a role as an extra in Peak Practice. "Life's what you make it, so start making it," crooned the Sheffield songsmith. 
There was a surprising image change and style change at one point. But maybe Shuttleworth had as many misgivings about his rap direction as I did, ditching it after one hip hop ode: "the Jimmy Young Show, where did that go?" Bossa Nova and cha cha is more John's style. The swiftly discarded red baseball cap was probably not the best image rethink either.
Sweets figured strongly in the set as he recalled his first Polo and sticking his tongue through the hole. And after an a cappella version of Mutiny Over The Bounty he revealed in a sequel that he has finally accepted the demise of the cardboard insert. Almost, anyway. In fact some banter about long-forgotten chocolate bars prompted him to consider doing a Sting-style benefit gig for endangered confectionary.
But hang on, I thought he was planning his retirement? He even called his manager and sole agent Ken Worthington from the stage to break the bombshell to him. Ken, however, seemed a little non-plussed, which maybe prompted, thanks goodness, a sudden Sinatra-style rethink. It looks like we haven't seen the last of the organ-meister just yet then. Maybe he isn't ready to be a forgotten star like one of his heroes he sings about, Vince Hill - "last seen on Pebble Mill".
Full tour dates here.