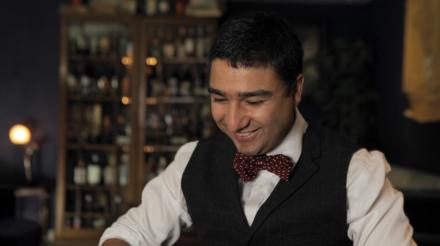 Nick Mohammed is always busy, but he is particularly busy at the moment. He performs at a special all-star gig at the Adelphi Theatre, 100 Hearts Charity Gala, in aid of Royal Brompton and Harefield Hospitals Charity, on Sunday 26th February. The full Line-up includes Rowan Atkinson, Jo Brand, Nina Conti, Harry Enfield, Michael McIntyre and host Clive Anderson. For info and booking click here.
Meanwhile there are still a few chances to catch his own acclaimed show. Mr Swallow – Houdini is at Soho Theatre until 18th February. There is an extra matinee this Friday at 3.30pm. Tickets for all shows here. And if you have children into novels about magic Nick Mohammed has just the thing – The Young Magicians and The Thieves' Almanac. It is £6.99 is available here.
Picture by Vanessa Whyte
1. What is the last thing you do before you go onstage (apart from check your flies and/or check your knickers aren't sticking out of your skirt and check for spinach between your teeth )?
I do this kind of floppy wrist thing with my hands which I was told helps calm nerves. It never works but kills about 1-2 seconds before I walk out on stage and for a brief moment makes me wonder why I'm still doing it (the wrist thing).
2. What irritates you?
Laziness. And tinnitus. 
3. What is the most dangerous thing you have ever done?
Probably this year's Mr. Swallow show about Houdini, which ends with the Chinese Water Torture escape.
4. What is the most stupid thing you have ever done?
See above
5. What has surprised you the most during your career in comedy?
People's reaction when I tell them I'm not Asian.
Interview continues here.