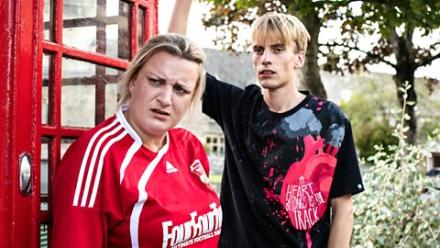 I don't know why this niggles me so much but This Country is another of those series that is flagged up as an online BBC Three programme but then, like Uncle and Cuckoo and other classy comedies, no sooner have you finished downloading it than it pops up on BBC One or Two.
I'd been meaning to catch this gentle, quietly addictive new mockumentary following disenfranchised youth in a Cotswold village when it was released last week then caught it on BBC One last night after Match of the Day, where I presume it will be appearing every week. 
Anyway, that's the only niggle. Real life siblings Charlie Cooper and Daisy May Cooper both write this and star as cousins Kerry and Kurtan Mucklowe who look like off-the-peg shell-suited chavs but turn out to be much more sympathetic, well-rounded and good-hearted.
The opening episode mainly revolves around Laser Quest-loving Kurtan's deluded attempts to win the first prize at the annual Scarecrow festival. He misguidedly thinks he has it all sewn up only to find that his shabby exhibit is so far away from the action that nobody is going to see it, never mind vote for it, so he has to hatch a dodgy plot to secure a victory. 
Inevitably the description of the show as a "mockumentary" will evoke the obligatory mention of The Office and the fact that Kurtan is a dead ringer for David Brent's sidekick Gareth prompted BBC Three to pre-empt comments by acknowledging the similarity on Twitter.
But while there are hints of Wernham Hogg (and also People Just Do Nothing) in the awkward pauses and glances to camera this does feel different enough to justify further viewing. Kerry might initially seem a little one dimensional, but, like Kurtan too, has hidden depths. The first episode hints at problems at home – a needy, shouty mother and a father who has abandoned his family (even though he seems to live nearby).
As a result of the subtexts going on here you may find yourself warming to This Country very quickly and equally quickly forgetting about similar programmes. And while it might feel as if there is a risk that you are just laughing at the underclass this is actually a programme that doesn't have a nasty bone in its body. Worth sticking with, whatever platform you catch it on.
Watch This Country here. Episodes released on Wednesdays. And screened on BBC One on Saturdays.