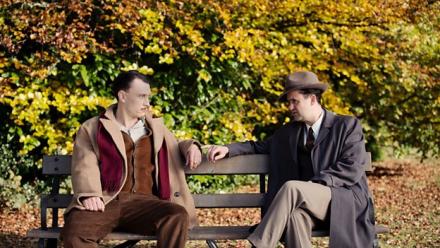 Edinburgh Comedy Award winner Richard Gadd is one of the stars in a new BBC Two factual drama entitled Against The Law.
More than ten years before the decriminalisation of homosexual acts in 1967, Wildeblood, and his friends Lord Montagu (Mark Edel-Hunt) and Michael Pitt-Rivers, were found guilty of homosexual offences and jailed.
With his career in tatters and his private life painfully exposed, Wildeblood began his sentence a broken man, but he emerged from Wormwood Scrubs a year later determined to do all he could to change the way these draconian laws against homosexuality impacted on the lives of men like him.
Mays says: "I'm incredibly proud to be part of a drama that tells such an important real-life story. Peter Wildeblood is a fascinating, complex, yet flawed character from a time when being a gay man in Britain was incredibly difficult - I can't wait to bring his tale to life for the BBC Two audience."
The drama also features Mark Gatiss (Taboo, Sherlock) as Wildeblood's prison psychiatrist, Doctor Landers and Charlie Creed-Miles (Ripper Street, Peaky Blinders) as Superintendent Jones.
Written by Brian Fillis, Against the Law is directed by Fergus O'Brien, produced by Scott James Bassett and executive produced by Aysha Rafaele, Creative Director of The Documentary Unit, BBC Studios. It  will broadcast on BBC Two later in the year.